Bernardo Caraballo
Jump to navigation
Jump to search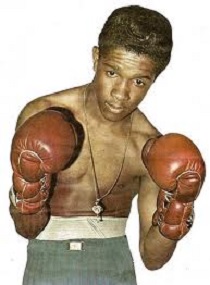 Name: Bernardo Caraballo
Birth Name: Bernardo Caraballo Rodríguez
Hometown: Cartagena, Colombia
Birthplace: Cartagena, Colombia
Died: 2022-01-20 (Age:80)
Pro Boxer: Record

Bernardo Caraballo, active from 1963 to 1977, compiled a record of 69-18-5 (30 KOs/KO by 11). Between October 1962 and August 1968, he was ranked as high as the number 2 world-bantamweight contender by The Ring magazine.
Caraballo was the first Colombian fighter to fight for a world title. In November 1964, he faced Eder Jofre in Bogota, and although he lost by knockout in the seventh round, he made Colombian boxing history. A second title shot came in 1967--a fifteen-round decision loss to Fighting Harada.
The August 13 1966 issue of newspaper El Tiempo of Bogotá reported that his record, as it appeared in the Ring Record Book and other published sources, had been inflated with a number of extra wins. These fights were a mixture of both fake results as well as amateur bouts that were added to his pro record. His correct record at the time was 38-1-1- with 1 NC.
The false results in question were the following:
1961-4-17 KO9 Rocky Belgrave, Barranquilla
1961-5-28 W10 Espedito Duque, Barranquilla.
1961-9-29 KO5 Pedro Canate, Barranquilla.
1961-10-30 KO5 Alfonso Franco, Cartagena.
1961-11-15 KO8 Juan Correa, Cartagena.
1961-12-20 KO9 Alfonso Franco, Cartagena.
1962-1-17 KO10 Juan Rodriguez, Barranquilla.
1962-4-15 KO3 Alejandro Urrutia, Monteria.
1963-9-17 WDQ9 Carlos Miranda, Bueno Aires.
Apart from these results, Caraballo's record listed a points win over Oscar Gomez on 1961-3-3 which really was a NC.