Bert Lytell
Jump to navigation
Jump to search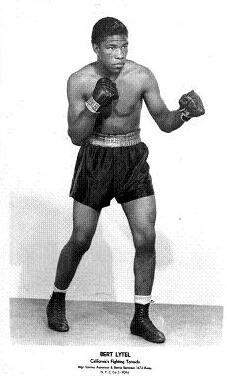 Name: Bert Lytell
Alias: Chocolate Kid
Birth Name: Calvin Coolidge Lytle
Hometown: Oakland, California, USA
Birthplace: Victoria, Texas, USA
Died: 1990-01-26 (Age:66)
Stance: Southpaw
Height: 175cm
Pro Boxer: Record

Manager: Sammy Aaronson, Tiny Patterson, Bernie Bernstein. Later in his career, Frank Sheppard became one of his managers.
During his professional career, newspapers claimed that Bert Lytell was born in either Oakland or Fresno, California. However, U.S. Census records show that he was born in Victoria, Texas and that his real name was "Calvin Coolidge Lytle." His birthdate was also believed to be 5/24/1924 (Lytell himself was claiming that date by the late 1940s) but his military records state that he was actually born on 1/24/1924, which is also supported by the U.S Census record. Calvin enlisted in the naval reserves at San Antonio, Texas in March 1942 and was discharged in March 1944 in New York City. He resided in New York City for the bulk of his professional career. Lytell had an older brother named Loyal Lytle. Loyal moved to Oakland, California after his discharge from the army and Lytell was close to his brother and his brother's children. This may be the reason why Lytell claimed California as his home. Lytell lived in Oakland in the early 50s, moved back east, and then returned to Oakland -probably in the late 1960s.
Springs Toledo's series about Bert Lytell appears in "Murderers' Row: In Search of Boxing's Greatest Outcasts" (Tora, 2017; 2020).