Bob McAllister
Jump to navigation
Jump to search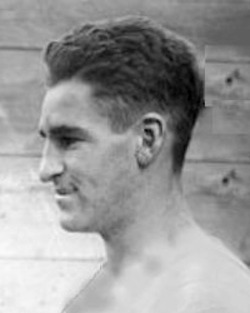 Name: Bob McAllister
Birth Name: Robert Moore McAllister
Hometown: San Francisco, California, USA
Birthplace: San Francisco, California, USA
Died: 1967-02-08 (Age:74)
Height: 184cm
Pro Boxer: Record

Bob McAllister won four amateur championships of the United States Pacific Coast: welterweight, middleweight (twice), and heavyweight. [1]
McAllister, signed by William Unmack for Australia promoter Snowy Baker, planned to go fight in Australia. But, based upon a letter by sports editor Marion T. Salazar, published June 1916 in the SAN FRANCISCO BULLETIN, which panned McAllister, the boxer decided to give up the trip.
The 1909-1912 amateur bouts come from T. S. Andrews's WORLD'S ANNUAL SPORTING RECORDS (1915), p. 120, & Mike DeLisa:
1909

Jack Cali Oakland, CA, USA W KO 2
Gus Anderson Oakland, CA, USA W PTS 3
Al Sage Oakland, CA, USA W KO 2
Winnie Wright Oakland, CA, USA W PTS 3
C Sanborn Oakland, CA, USA W PTS 3
Manual Silva Oakland, CA, USA W PTS 3
Eddie Burns Oakland, CA, USA W KO 2
Dec 10 Manual Silva Oakland, CA, USA W PTS 3

1910

Apr 23 Nat Goldie Oakland, CA, USA W KO 1
Joe Erickson Sacramento, CA, USA W PTS 4
R Noone Sacramento, CA, USA W KO 2
11-22 Joe Erickson Sacramento, CA, USA W PTS 4 (Semi-Final of amateur tourney of PAA, welterweight)
11-22 R Moyes Sacramento, CA, USA W PTS 3 (Final of amateur tourney of PAA, welterweight)
11-22 Schreckengast Sacramento, CA, USA W w/o (Final of amateur tourney of PAA, Middleweight)

1912

Earl Miebus Los Angeles, CA, USA W PTS 3
R Hawtry Los Angeles, CA, USA W KO 1
11-16 Fred Hawtry Los Angeles, CA, USA W KO 1
Ray Landers Los Angeles, CA, USA W KO 2

1913

Tad Derbyshire San Francisco, CA, USA W KO 2