Charles Humez
Jump to navigation
Jump to search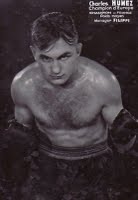 Name: Charles Humez
Alias: Charley
Birth Name: Charles Louis Humez
Hometown: Mericourt, Pas-de-Calais, France
Birthplace: Mericourt, Pas-de-Calais, France
Died: 1979-11-11 (Age:52)
Stance: Orthodox
Height: 175cm
Reach: 180cm
Pro Boxer: Record
Amateur Boxer: Record


As amateur Humez won over Chris Christensen in the European Championship 1947, second round of tournament.
Won semi finals over Guiseppe Facci of Italy.
Lost final against Ryan of GB. 17-05-1947 Dublin.
Charles Humez turned to wrestling after his career in boxing ended.
Practically nothing has been written and reported in English publications about this world-famous French fighter. He died in Bois-Bernard near Calais. Source: The French Web site dedicated to Humez: [1].