Colin Dunne
Jump to navigation
Jump to search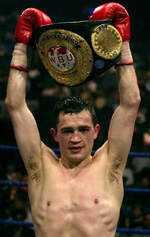 Name: Colin Dunne
Alias: Dynamo
Hometown: Holloway, London, United Kingdom
Birthplace: Liverpool, Merseyside, United Kingdom
Height: 169cm
Reach: 173cm
Pro Boxer: Record



Nephew of Jimmy Dunne.
Dunne, who says that, physically, he was a "slow maturer," spent four years training to be a jockey. A late growth spurt put an end to his saddle racing career, but it was through the connections he made in the racing business that he met Colin Lake (a former jockey himself), who would go on to serve as Dunne's trainer throughout his ring career.
References
Gill, Michael. "Dynamo," Boxing Monthly, October 1998, pp. 36-38.