Davey Adelman
Jump to navigation
Jump to search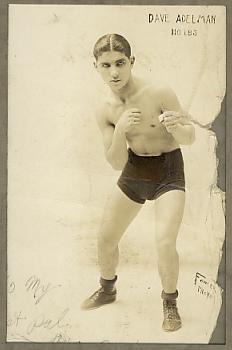 Name: Davey Adelman
Hometown: Philadelphia, Pennsylvania, USA
Birthplace: Canada
Height: 160cm
Pro Boxer: Record


Davey Adelman was born in Winnipeg, Canada, to Russian immigrants. He moved to the United States when he was about 18 years old, eventually settling in Philadelphia. He married when he was 20.
He was ranked by The Ring as the #15 Flyweight in the world in their annual ratings for 1925, and #12 in 1926.
External Link
Jews in Sport bio: [1]