Dominick McCaffrey
Jump to navigation
Jump to search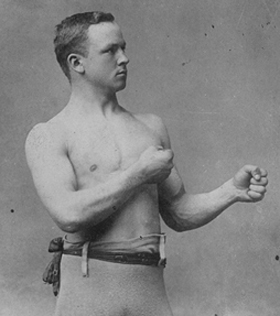 Name: Dominick McCaffrey
Birth Name: Dominic McCaffrey
Hometown: Pittsburgh, Pennsylvania, USA
Birthplace: Pittsburgh, Pennsylvania, USA
Died: 1926-12-29 (Age:63)
Height: 175cm
Pro Boxer: Record

Photo #2

Career Overview
McCaffrey was one of the leading American pugilists of his day. Hailing from Pittsburgh, Pennsylvania, he was the first fighter from that city to challenge for the heavyweight championship of the world, taking on John L. Sullivan on August 29, 1885. Much smaller than the champion, McCaffrey lost the fight but lasted longer than any other of Sullivan's previous opponents.

Often at a size disadvantage, McCaffrey fought several other talented fighters of his generation, including Nonpareil Jack Dempsey, James J. Corbett, and Charley Mitchell, whom he beat in a four round bout in 1884.

After retiring from the sport, McCaffrey worked as a tipstaff in the Allegheny County courts. Described as personable and well-liked, he passed away on December 29, 1926 in Pittsburgh of lung cancer at the age of 63.


Sources:
Isenberg, Michael T. John L. Sullivan and His America
Cyber Boxing Zone Profile