Ed (Gunboat) Smith
Jump to navigation
Jump to search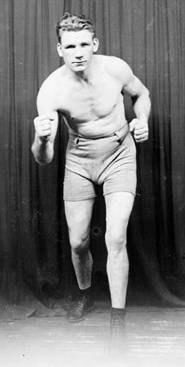 Name: Gunboat Smith
Alias: Gunner
Birth Name: Edward J. Smyth
Hometown: Philadelphia, Pennsylvania, USA
Birthplace: Philadelphia, Pennsylvania, USA
Died: 1974-08-06 (Age:87)
Stance: Orthodox
Height: 188cm
Reach: 183cm
Pro Boxer: Record

Trainer: Spider Kelly
Managers: Cleve Peters, Jimmy Buckley
Officiating Record: [1] (considered incomplete)


It has been reported that Ed (Gunboat) Smith had been born with the christian name of Edward Eckblad or Edward Eckhad. According to the March 28, 1913 Tacoma Daily News (Tacoma, WA, USA), Smith said he got the nickname "Gunboat" from his fellow United States Navy sailors from the U. S. S. Pennsylvania because of his "gunboat"-sized feet (which some report as being size 11). He was also quoted by this paper as saying that, after his fourth career bout, which he lost to Jim Barry, he thought he did not have what it took to be a boxer. So he quit to work four months in the oil fields before returning to the ring. (See also, '"Gunboat" Smith on the Decline': Dec. 16, 1914 Tacoma Times: [2].)
Smith was famous for his "occipital punch"--right hand blow that flashed over an opponent's shoulder to connect with the occipital bone at the base of the skull.
There is an odd story which appeared in many US newspapers of the day that on October 11th, 1909, during a 4-round exhibition bout in preparation for the Johnson-Ketchel fight, Gunboat Smith flattened Jack Johnson two minutes into the final round, forcing Johnson's manager to cut the match short. Strangely, the San Francisco Call makes no mention of the incident though it happened in its city. The paper mentions briefly that Johnson had worked with four sparring partners, one of whom was Smith.
On December 31, 1909, he married Eleanor C. Herlehy at Sacramento, California. [3]
In December 1912, he was facing charges of abandoning and neglecting his wife, Elinor C. Smith. [4]
It was later reported that he planned to marry Helen Remily Jan. 17, 1914 in California, after a three-year engagement. [5]
In November of 1917, Smith was arrested for assaulting his manager Jimmy Buckley.
After his ring career was over he became a referee. Smith also acted in the movies during the 1920s. IMDb credits: [6]
Feb. 28, 1914 Seattle Star article [7]