Erv Sarlin
Jump to navigation
Jump to search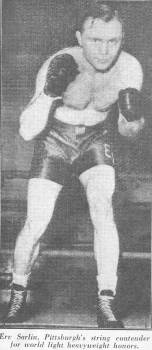 Name: Erv Sarlin
Birth Name: Erwin Otto Sauerland
Hometown: Pittsburgh, Pennsylvania, USA
Birthplace: Witten, Nordrhein-Westfalen, Germany
Died: 2008-06-14 (Age:89)
Height: 175cm
Pro Boxer: Record

Erv Sarlin was a Jewish light-heavyweight boxer who had been born in Germany.
---
According to the United States of America Petition For Naturalization database on Ancestry.com, one Erwin Otto Sauerland, 24, filed a petition to become a U.S. citizen on May 19, 1944. Before joining the U.S. Army on July 21, 1941, Saurland lived at 305 Rinne Street in "Pittsburg," Pennsylvania. He had been born on May 24, 1919 in Witten, Germany, and entered United States by way of New York City aboard the USS Mount Carroll on October 4, 1922. Saurland was 5'10" tall and weighed 185 pounds. Between 1941-1942 Sarlin was ranked as high as the #6 Light Heavyweight in the world by The Ring. Often entered into the top ten as Erv Sarlen.