Eugene Brosseau
Jump to navigation
Jump to search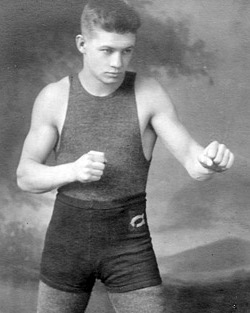 Name: Eugene Brosseau
Alias: Gentleman Gene
Hometown: Montreal, Quebec, Canada
Birthplace: Saint-Jean-Baptiste, Quebec, Canada
Died: 1968-01-19 (Age:72)
Pro Boxer: Record
Amateur Boxer: Record


Manager: Billy Moorehouse
The fans who saw Eugene Brosseau fight were convinced he was the best boxer Canada had ever produced. When in 1916 he won the American amateur middleweight crown, a Boston boxing critic was prepared to go even further: "He can go back to Montreal...the most professional looking amateur that ever donned a mitt." (See also the Nov. 22-23, 1917 amateur tournament at San Francisco, when he knocked out Jack Barkley.)
Brosseau was born in Montreal and learned his trade in amateur competitions in that city. He earned a reputation as a thoughtful fighter with a talented left hand and a solid knockout punch; in 1915 he parlayed his experience to the Canadian amateur championship, winning decisions in two three round fights in two days. He retained the title in a 1916 defense and in the same year took the American welterweight championship in Boston, winning one of four fights by knockout, the other three by decision.
Brosseau then moved up to the middleweight division, fighting in Toronto and Montreal, and gaining that title. In 1917, in San Francisco, he fought a series of benefit exhibitions for the Red Cross and in two days added $12,500 to the society's funds by knocking out two opponents one day and a third opponent the next day.
During the first World War Brosseau trained as a pilot with the British Air Force but the war ended before he was sent into action. After the war he turned professional and his success continued; he was rapidly establishing himself as one of the leading middleweight boxers in the world and the future looked bright.
In November 1919, he met former champion George Chip in a punishing twelve round bout in Portland, ME. Chip was a powerful boxer with a looping punch that repeatedly landed on the back of Brosseau's neck. After the fight Gene found his left arm to be paralyzed. Allowing three months for recovery Brosseau returned to the ring and knocked out Jack Holland in three rounds. The left hand was not the feared weapon that it was before the injury and caused the ending of a very promising career.
When his boxing career ended, Gene took a job with the post office but kept his connection with the fight game, serving as instructor to Canada's Olympic boxing team in 1924. He also managed some boxers, including Canadian bantamweight champion Art Giroux, George Chabot, and Paul Mecteau. In later life he was proud of the fact that he was the only Canadian ever to win two US amateur titles and that he had been selected to the Halls of Fame as both an amateur and professional.