Frank Farmer
Jump to navigation
Jump to search
Name: Frank Farmer
Alias: Old Bald Eagle
Birth Name: Frank Thomas Farmer
Hometown: Kapowsin, Washington, USA
Birthplace: Sumner, Washington, USA
Died: 1930-03-24 (Age:40)
Stance: Orthodox
Height: 182cm
Pro Boxer: Record

Division: Light Heavyweight
Trainers: B. A. Heil & Billy Richter
Managers: B. A. Heil & Melvin Mucklestone, 1912; Andy Mulligan & Tex Vernon, 1915; Sam Howard, 1916; Hi Green, 1919; Chet McIntyre, 1920s; et al.


Frank Farmer's father, Samuel M. Farmer (1851-1931), and mother, Margaret M. (1858-1918), had come from Kentucky to Washington circa 1886. His parents lived in Sumner where Frank was born and lived until he was ten-years-old, when they moved to nearby Tacoma. Frank attended Hawthorne, Longfellow and McKinley elementary schools in Tacoma. By March 1913, he had ten siblings: seven brothers and three sisters. Tacoma Daily News (TDN) March 8, 1913.
He "learned to fight by scrapping the kids that laid for him around the back lots of the Longfellow school.... 'I was tall and awkward, and I guess I looked queer with my cap perched on top of my head. Anyhow, it seems that every kid, big and small, thought that cap was there to be knocked off. And for a long time it got knocked off pretty regularly, until I took a notion to fight. Somehow it never occurred to me to turn and give battle, but one day when the Longfellow boys were running me home (a usual stunt) I turned on the fleet footed leader and licked him before the main body came up. I beat it another two blocks, turned on another kid who had outdistanced his companions, and beat him likewise. I repeated that four times before I reached home for dinner--and of course my appetite was quite good. But that is how I learned to fight.' " From an unidentified 1913 Tacoma newspaper article found in Farmer's scrapbook, currently (2006) in the possession of a Seattle collector.
Farmer's original nickname was the "Fighting Logger" (1913). He worked at the Kapowsin logging camp at the time. Later, he was also known as "Old Bald Top" after he had lost his hair.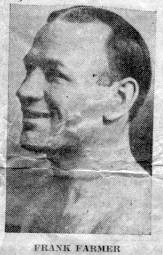 His first manager and trainer was B. A. Heil. (Nov. 18, 1912 TDN)
It was once reported that he started his career July 4, 1910 or 1911 at Eatonville, Washington, and that he had been a veteran of 82 main events in Tacoma before he was ever beaten. He first put on gloves when he was 16 when he was milking cows, at the suggestion of Billy Fix of Kapowsin. They sparred. Fix then dug up Oscar Ward to spar with Farmer. Melvin Mucklestone, University of Washington football star, of Kapowsin, was at one time pitted against Farmer in a friendly bout. Later, Mucklestone helped train and manage Farmer. Farmer had a few more sparring sessions, one for the Shingle Weavers' Union. Farmer's first professional match was against Eddie White of Raymond, WA. See the TDN of March 8, 1913 for a retrospective of his life to that date.
(A March 25, 1930 piece, written by long-time acquaintance Elliott Metcalf of one unidentified Tacoma paper, stated that Farmer "fought his first glove fight in 1907--23 years ago--and won by a knockout, but he dropped the game until 1910, when he again marched to the glove wars--then a thrilling adventure for him....")
Per a later TDN, he fought a six-round exhibition with Billy Ross at Morton, WA, on Dec. 14, 1913. In February 1914, he was going to Montana to visits his parents there. [1] The Feb. 11, 1915 TDN reported he was in the Los Angeles area looking for fights with his then manager, Col. Andy Mulligan. Some of Farmer's many managers during his early days did not treat him right, according to contemporary newspaper accounts. Thus, for about the last ten years of his career, he managed himself.
A newspaper article in Farmer's scrapbook, that survives to this day, reported that he was once a sparring partner for Jess Willard. "Farmer was at Willard's training quarters in El Paso, Texas, when the fight between the White Hope and the Big Smoke [Jack Johnson] had been dated for Juarez. Willard at that time was working out every day before a large crowd, in preparation for the expected Juarez battle. Farmer was the lightest of the men who boxed with the big Kansan, men like Monohan and O'Rouke, who weigh over two hundred pounds, forming the rest of the practice squad...." Afterward, Farmer started north, stopping at Denver and Kansas City, before landing in Marinette, WI, where he had a number of fights in the area in 1915. (Farmer had been unable to get bouts in the Tacoma area because he was "in bad" with the "ring" that was running practically everything in the area, per another newspaper article from an unidentified source.)
A May 27, 1919 Call and Post San Francisco newspaper clipping pasted by Farmer in his surviving scrapbook reported that he had fought in the Bay Area circa 1916 (although no documented bouts have been located so far): "Farmer is a stranger to San Franciscans except by reputation. However, there are a few who have seen him before in a local ring. About three years ago Farmer came to us as a "Masked Marvel." He was under the management of a chap [ Sam Howard ] who called himself "Gold Tooth Sam." "Gold Tooth" was a very mysterious chap. He kept his "Marvel" hidden away until the night he was to give a tryout for the newspapermen. The "Marvel," who later it was discovered was Farmer, went on with a fellow named George Pappas, a tough Greek with little knowledge of boxing. Farmer did well until the mask he was wearing slipped down over his eyes so he could not see. Pappas took advantage of the situation and almost punched the Marvel's head off before he could get his mask adjusted. Tonight Farmer will wear no mask. Therefore we'll see him at his best."
By October 1916 he was working as a butcher and general utility man for the St. Paul lumber camps. [2]
Circa late 1916 Farmer had married Miss Julia Albertine of Orting, WA, in the office of Justice John W. Linck. Two photographs of Farmer and his wife doing roadwork and sparring together in a gym can be found in a Sunday, March 25, 1917 Tacoma newspaper. A copy is in his scrapbook, as is a big photo of Mrs. Farmer that was published in the Nov. 24 Tacoma Times. She had become his manager shortly after they were married. By November 1917 Farmer was still working in a logging camp near Kapowsin for $5 a day. A November 24, 1917 Tacoma Times article was entitled "Boxer's Wife Induces Him to Once More Try for Ring Fame." [3] The Farmers had a daughter born March 28, 1918 (her name is unknown).
The Sept. 9, 1918 TDN reported that he was then serving in the United States Navy (at the end of World War I).
From 1918 to 1922, he reportedly was the Pacific Coast Light Heavyweight Champion. The June 7, 1920 Tacoma News Tribune (TNT) declared him to tbe the most popular boxer in the Pacific Northwest. By that time, he was raising sheep near the town of Orting, WA.
He engaged in a mixed wrestling/boxing event with wrestler August Sepp on July 4, 1929 at the Northwest Athletic Club, and promptly lost when he was almost immediately thrown. TNT
Farmer was the uncle to fellow boxer Dewey (Kid) Beachey. TNT July 9, 1929.
Farmer was a longshoreman in Tacoma, and had recently engaged in a few bouts in Canada, at the time of his death in 1930 during a bout with Spark Plug Boyd. Dr. T.H. Long pronounced him dead. Farmer left behind his widow, Jewell, and a daughter, Roxie. He also left behind brothers Charles, R.M., and Orin (of Tacoma), Perry (Fife), Chester (Copalis), and Delar (Buckley); and sisters Mrs. E.M. Blair (Tacoma), Mrs. E. A. Beachwood, and Mrs. Mabel Landis (Buckley). According to a newspaper account of his final and fatal bout, Farmer had been a veteran of some 300 contests. With one exception, he had fought all his 85 Tacoma bouts under the direction of George Shanklin, matchmaker and promoter of the Eagles Athletic Club.
Farmer was interred in a grove at Woodland Cemetery, Sumner, WA (presently located at 12324 Valley Avenue East, Puyallup, WA)--where Farmer's parents are buried. (His mother had died in 1918, and his father would die in 1931). Shanklin read the final services, and closed with: "Goodbye, old friend; goodbye!" March 28 Tacoma Times
---
biography http://boxingbiographies.co.uk/html/frank_farmer.HTM