Frank Sinatra
Jump to navigation
Jump to search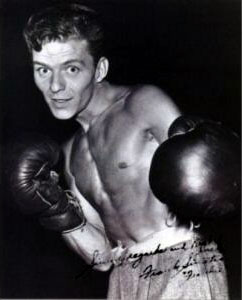 Name: Frank Sinatra
Hometown: Hollywood, California, USA
Birthplace: Hoboken, New Jersey, USA
Died: 1998-05-14 (Age:82)
Promoter: Record


Photo: Sinatra with trainer Al Silvani
---
Frank Sinatra, who rose to fame as a singer in the 1940s, was the son of Anthony Martin Sinatra, who boxed professionally under the name Marty O'Brien.
Sinatra was a close friend of trainer Al Silvani. They met in the early 1940s at a bar in New York City when Sinatra approached Silvani and asked the trainer to teach him how to box. "I took him to Stillman's and taught him how to throw a punch and how to move," Silvani said. "He caught on quickly."
On June 23, 1947, Sinatra promoted the third and final bout between Jersey Joe Walcott and Joey Maxim at Gilmore Stadium in Los Angeles, California.
Sinatra co-managed Cisco Andrade, who unsuccessfully challenged Joe Brown for the World Lightweight Championship in 1960.
Sinatra was Life magazine's guest photographer at the first fight between Muhammad Ali and Joe Frazier, which took place at Madison Square Garden in New York City on March 8, 1971. One of his photographs appeared on the cover of the magazine.
Sinatra served as a pallbearer at the funeral of Joe Louis.