Hollywood Legion Stadium
Jump to navigation
Jump to search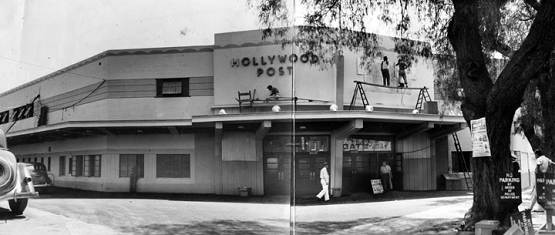 The Hollywood (American) Legion Stadium was one of the two major boxing venues of Los Angeles from the 1920s on, the other being the Olympic Auditorium. It was the most stable and most successful venue in California during the 1920s and 1930s. Its cards were held on Fridays.
It opened as an 8,000-seat venue August 12, 1921, under the auspices of World War I veterans, American Legion Post No. 43. It was closed for a short time to add an arched roof over the formerly open-air venue, and reopened Dec. 16, 1921. It once again was closed briefly on July 11, 1923, to sink the boxing ring six feet, increasing the pitch of ringside seats so that all patrons had a good view of the ring, and to add a ventilation system that recycled the air every 10 minutes. According to the Los Angeles Times of the day, the venue then accommodated 5,100 people. (Other sources say the seating was reduced to 4,500.)
A second version of this venue opened on Sept. 2, 1938 with a capacity of about 6,300, and at a cost of $250,000.
Black boxers were not allowed to fight here until 1940.
On March 15, 1952, shows moved from the regular Friday night slot to Saturday nights. The reason for the move was the televising of boxing shows from the East Coast on Friday nights, which had eroded attendance and made sell-outs rare. With the move, the Legion Stadium intended to televise their shows as well, showing them locally on television station KECA.
The feature films Hollywood Stadium Mystery (1938), Spirit of Youth (1938) and Waltzing Around (1929) used Hollywood Legion Stadium as a shooting site. The first two films are readily available but the only known copy of Waltzing Around exists in the Library of Congress.
The Hollywood Legion Stadium closed in 1959. It became the Legion Lanes Bowling Alley, between North Gower Street and Centro Avenue. Today it is a LA Fitness facility: [1]
---
Some of the people associated with this venue include:
---
"Legion Stadium Television Experiment Starts Tonight" Los Angeles Times, March 15, 1952
Photos: [3]
Only in Hollywood.org: [4]
Google Search Results: [5]
Souvenir Program (signed by Willie Ritchie)
"Daze with Jordan the Lion" Vlog: [6]