Jem Belcher
Jump to navigation
Jump to search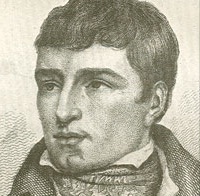 Born: April 15, 1781 in Bristol, England
Died: July 30, 1811

Jem Belcher won the English bare-knuckle crown in 1800, defeating Jack Bartholomew over 17 rounds, after having fought Bartolomew to a draw over 51 rounds the year before.
In 1803 Belcher lost sight in an eye when he was struck by a racquet ball during a game. Over the next two years, Belcher avoided defending his title, fighting only exhibitions. A former protege of Belcher, Henry Pearce, would challenge and beat his former mentor.
Belcher fought twice more after that, losing both to Tom Cribb. The second defeat was his ruin. He had bet his entire fortune on his victory. Belcher created a riot after the defeat, which landed him in jail for four weeks.
In 1811, Belcher died penniless at his pub, "The Jolly Butchers". His funeral was attended by many of the great boxers of the era.
A pioneer boxer, Belcher, "who at 20 years of age was champion of England, was the first to use the one-two punch--a straight left instantly followed by a straight right. Willie Lewis was the best exponent of this maneuver that the modern ring has seen." Tacoma News Tribune (Tacoma, WA, USA) Jan. 1, 1924
See also, Henry Pearce vs. Jem Belcher
External Links