Jesse Ferguson
Jump to navigation
Jump to search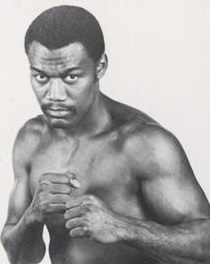 Name: Jesse Ferguson
Alias: The Boogieman / Thunder
Hometown: Philadelphia, Pennsylvania, USA
Birthplace: Knightdale, North Carolina, USA
Stance: Orthodox
Height: 188cm
Reach: 196cm
Pro Boxer: Record
Amateur Boxer: Record


Pro Career
After an amateur career in the early 80s, Ferguson turned pro in 1983 at the age of 25. He had 10 straight wins (all by knockout), the most notable being a 4-round knockout of Reggie Gross.
This earned him a place in ESPN's 1985 Young Heavyweight tournament. He made a debut with a 4-round knockout of Richard Scott, and followed it up in the semi-finals with a 10-round points win where he outpunched James "Buster" Douglas, a fight that would become more significant over the years, as Douglas went on to upset Mike Tyson in 1990 and win the undisputed heavyweight championship of the world. In the final he took on Tony Anthony and knocked him out in the 10th round, earning himself a world ranking.
His success was short-lived however. He was matched up with Carl "The Truth" Williams, who was himself coming off a disputed 15-round points loss to Larry Holmes. Williams' experience won out, as he climbed off the floor twice to knock out Ferguson in 10 rounds.
Title Fight
Ferguson was brought in as an opponent for Ray Mercer on the undercard of a Riddick Bowe title defense against Michael Dokes. Mercer was expected to knock Ferguson out and fight Bowe for the title. Instead Mercer showed up ill-prepared and Ferguson, perhaps motivated by the big stage, dominated him. For the first time in years Ferguson came in under 230 lbs to fight Riddick Bowe for the title. At 224 Ferguson was as cut as he'd been since the mid-80s, but although he came to fight, Bowe was in impressive form yet again and dispatched Ferguson in two rounds.
Factoids
Sources