Jimmy Thomas
Jump to navigation
Jump to search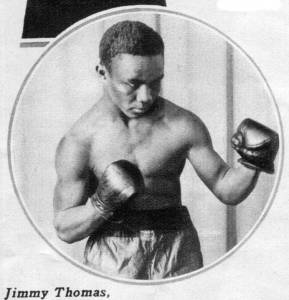 Name: Jimmy Thomas
Birth Name: James Thomas
Hometown: Pittsburgh, Pennsylvania, USA
Birthplace: Georgia, USA
Pro Boxer: Record

Division: Bantamweight
Manager: Benny Ford (in California)

A United States census (1930 census?) had Jimmy Thomas stating his occupation as "boxer/waiter." Family lore says that Thomas owned a hotel in Philadelphia or Boston after he had retired from boxing, and that he helped young boxers in Boston at the local YMCA for years before he passed away, although his family is not quite certain it was Boston.
Unconfirmed Bouts
In addition to the fights listed in the linked record, Thomas probably also had the following:
1935: W tko, Kid Franklin (probably March); W tko, Frankie Moses (probably April); W tko, Tiger Clark (probably April or May); W Points, Eddie Kid Brown (probably May); W Points, Eddie Kid Brown(May or June). Presumably all of these fights occurred in New Orleans, and are mentioned in The Ring, June 1935, page 56, July 1935, page 62, and August 1935, page 55.
1938: Nov. 25, Jackie Carter, Belize (British Honduras), W Pts 10; Pal Silver, Belize, L Pts 10; George Dixon, Belize, W Pts 10; Dec. 16, Pal Silver, Belize, L tko 6. The first two of these four fights is mentioned in The Ring, February 1939, page 58. The Dixon and second Silver fights are mentioned in The Ring, March 1939, page 51. Although it is not certain that the Jimmy Thomas who had these fights is the same as the Pittsburgh fighter, it appears likely that they are identical.
---
According to the U.S. Census database on the Ancestry.com website, one James Thomas, a black 18-year-old native of Georgia, was a "roomer" who was living in Pittsburgh, Pennsylvania during 1930. He was listed as a "Pugilist" who worked on an "Own Business" basis.