Joe Banovic
Jump to navigation
Jump to search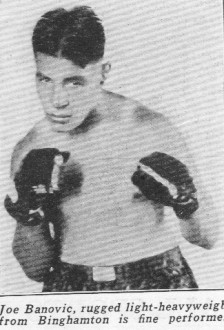 Name: Joe Banovic
Alias: Bingo Joe Banovic; Joe Boland
Hometown: Binghamton, New York, USA
Birthplace: Perth Amboy, New Jersey, USA
Died: 1964-12-31 (Age:58)
Height: 173cm
Referee: Record
Pro Boxer: Record
Amateur Boxer: Record

Manager: Jersey Jones

Joe Banovic boxed under the name "Joe Boland" in his early career. The following fights, probably fought under the Boland name, are included in his published records, but have not yet been traced.
Jack Pettrolo, Won ko 1 (1927)
Johnny Dale, Won Points 4 (1927)
Chuck Henderson, Won Points 6 (1927)
Roy Manley, Lost Points 6 (1927)
Jim McAllister, Won Points 8 (1927)
Soldier Petrone, Won KO 4 (1928)

These fights probably occurred in Binghamton, NY, and the coal-mining area of eastern Pennsylvania, mainly Wilkes-Barre and Scranton.
Banovic alleged 153 fights between 1923-1941. He claimed 1 to be an amateur bout, 81 professional bouts and the rest being "bootleg" bouts (Binghamton Press, December 17, 1963).