Jordan Shimmell
Jump to navigation
Jump to search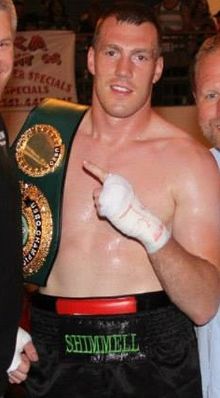 Name: Jordan Shimmell
Hometown: Hudsonville, Michigan, USA
Birthplace: Sheboygan, Wisconsin, USA
Height: 191cm
Reach: 203cm
Pro Boxer: Record
Amateur Boxer: Record

Promoter: Clint Calkins
Manager: Al Haymon
Trainer: Dennis Shimmell (father)

Jordan Shimmell was born in Sheboygan, WI on October 10, 1988. He started boxing at age 8. As a junior division boxer, Jordan won the Michigan Silver Gloves State Championship in 1998, 2000 and 2003. Jordan won the Michigan Junior Olympics State Championship in 1999, 2000, 2001, 2003, 2004 and 2005. Jordan advanced to the Region 5 Junior Olympic Championship in 2003 thru 2005 and won the title each time. He won the bronze medal in the 2004 National Junior Olympics and won the gold medal in the 2005 National Junior Olympics. Jordan also won the National Junior Golden Gloves title in 2001, 2003 and 2004.
In his first year as an open-class boxer, Jordan Shimmell won the Western Michigan Golden Gloves, the Michigan Golden Gloves and was the runner-up in the 2006 National Golden Gloves. Jordan lost a very close 3-2 split decision to the defending 201 pound champion Eric Fields who won the Golden Boy award for the most outstanding boxer of the tournament in both the 2005 and 2006 National Golden Gloves Tournaments.
Jordan Shimmell won the 201 pound championship in the first ever Midwestern Trials in 2007. He again won the Michigan Golden Gloves in 2007, but an injury hindered him in the 2007 National Golden Gloves. In June 2007, Jordan lost a close 12-11 decision in the 2007 U.S. Championships to Quantis Graves, narrowly missing the chance to compete in the United States Olympic Trials. Quantis Graves was the runner-up at the Olympic Trials.
In November 2007 Jordan won the World Golden Gloves Championships with a devastating knockout in the finals against a boxer from Great Britain. In the 2008 National Golden Gloves Jordan made it to the semifinals before losing a 3-2 split decision to the 201 pound champion that year, Craig Lewis.
In April 2009, Jordan won his fourth straight Michigan Golden Gloves heavyweight championship and became the firs heavyweight in Michigan Golden Gloves history to win four titles. In May 2009, Shimmell, won the National Golden Gloves heavyweight title. He won five bouts during the week to capture the title. The following month, Jordan went to the USA Boxing National Championships and won his second consecutive heavyweight title of the year. Jordan became only the 6th heavyweight to win both the National Golden Gloves and USA Boxing National Championships in the same year.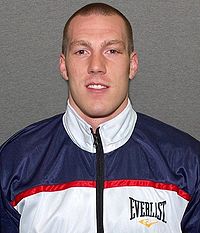 Amateur Career
Reported amateur record: 110-55
2012 U.S. Olympic Trials (201 lbs.)
2012 National Golden Gloves Runner Up (201 lbs.)
2011 National Golden Gloves Semifinalist (201 lbs.)
2010 National Golden Gloves Runner Up (201 lbs.)
2009 World Amateur Championships
2009 National Golden Gloves Champion (201 lbs.)
2008 National Golden Gloves Semifinalist (201 lbs.)
Title Held
USBO Cruiserweight Title (2013)