Charles (Kid) McCoy
Jump to navigation
Jump to search

Name: Charles Kid McCoy
Alias: Kid McCoy
Birth Name: Norman Selby
Hometown: Detroit, Michigan, USA
Birthplace: Warsaw, Indiana, USA
Died: 1940-04-18 (Age:67)
Height: 182cm
Reach: 193cm
Referee: Record
Pro Boxer: Record

Managers: Frank Kelly, Bob Benton
According to the Feb. 10, 1900 Tacoma Evening News (Tacoma, WA, USA), Norman Selby got his boxing nickname from then-farmer T. A. McCoy of Anderson, Indiana. Earlier McCoy had been a meat butcher at Milroy, Ohio, where Selby had grown up. There was a bully in town by the name of Conde. Conde would frequently get drunk and beat up on people for fun. One day Conde was in McCoy's butcher shop drunk and belligerent. McCoy ordered him out but Conde refused. So McCoy gave Conde a thorough "whipping." When young Selby grew and "began to show his prowess [as a boxer] he was likened to the old butcher" and nicknamed "Kid McCoy."
McCoy was a cousin to John W. Lovett, a prominent attorney in eastern Indiana during the late 1800s, and who had unsuccessfully run for state Attorney General a couple of times. Tacoma Evening News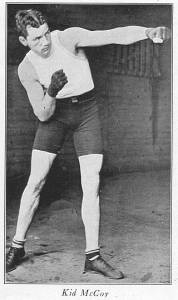 The Nov. 4, 1911 Daily Ledger (Tacoma, WA) reported that, with a Frank Peabody--a former central office detective--as a partner, Selby had opened a detective agency on Fifth Avenue in New York. In August 1912, McCoy was charged with larceny in London. [1][2]
On August 14, 1924, McCoy/Selby shot and killed Mrs. Theresa Mors, with whom he had been living as Mr. & Mrs. N. Shields in Los Angeles. (The murder is often incorrectly reported as occurring December 29.) The police theorized that she had been on the verge of a reconciliation with her former husband, Albert Mors, a wealthy antiques dealer. Several hours after killing Mrs. Mors, Selby entered the Mors Antique Shop and the next-door Schapp millinery establishment, looking for Albert Mors, who wasn't present. While waiting for Mors, Selby lined up the employees and patrons and robbed them. He also began to shoot up the place and wounded three people, including Samuel Schapp. He was later charged and convicted of assault, assault with a deadly weapon, and manslaughter. He started to serve his sentence at California's San Quentin Prison April 11, 1925.
On September 15, 1925, it was reported that the Second District Court of Appeals in Los Angeles, California, had granted his appeal for a new trial on the charge of manslaughter.
By November 1928, through at least September 1930, he was the Chief of the San Quentin Prison Fire Department.
Oddly enough, Asa Keyes, the Los Angeles district attorney who had prosecuted McCoy for the crimes which had incarcerated the pugilist, wound up himself a fellow San Quentin inmate. In April 1931, Keyes joined with 36 others in recommending to California Governor Rolph a full pardon for McCoy. McCoy had been a model prisoner. Others included Al Smith, U.S. Senators Royal S. Copeland and Robert F. Wagner (New York), New York City Mayor Walker, Governors Albert C. Ritchie (Maryland), John G. Pollard (Virginia), George W. P. Hunt (Arizona), and Fred Green (Michigan).
According to newspaper accounts of August 14, 1931, McCoy was scheduled to be released from prison December 11, 1932--six years early. It was expected that he would be employed as a physical instructor at the Ford Motor plant in Dearborn, Michigan. McCoy was eventually paroled in late August 1932, after serving eight years.
American newspapers of Feb. 12, 1935 reported that he was modestly shunning a nomination as Michigan's outstanding hero for the past year. The August before, he had saved 11 people from drowning in Bass Lake. "Alone, he pulled six children out, one from [John] Green's arms, diving repeatedly as Green went under." Both John Green and his wife Mildred drowned, however.
On August 3, 1937 he wed for the ninth time. His bride was Miss Sue Cowley, a distant cousin of humorist Irvin S. Cobb. Selby married one woman three times.
McCoy/Selby committed suicide in 1940. Death was attributed by the coroner to either an overdose of sleeping pills or poison. He left a note saying that, at age 66, he could no longer endure "this world's madness." Perhaps the growing World War attributed to his decision.
His ring record, spanning 1891 to 1911, is often reported as 75 wins, 6 losses, 9 draws, and 13 no decisions. On August 10 1898 McCoy fought two exhibition matches in Saratoga Lake, New York; a 3-rounder with James E Payne and a 4-rounder with Jim Daly.
It is said that the popular American phrase "The Real McCoy" refers to him.
External Links
The Curious Case of Norman Selby by Kelly Nicholson: [3]