Kyrone Davis
Jump to navigation
Jump to search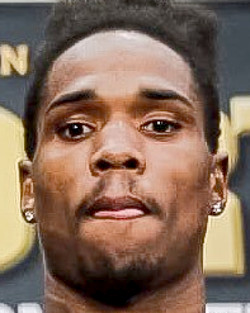 Name: Kyrone Davis
Alias: Shut It Down
Hometown: Wilmington, Delaware, USA
Birthplace: Monmouth County, New Jersey, USA
Stance: Orthodox
Height: 178cm
Reach: 185cm
Pro Boxer: Record
Amateur Boxer: Record

From DelawareBlack.com, Oct 15, 2013:
Wilmington's Kyrone Davis Makes History in Delaware
At first glance Kyrone Davis appears to be the average teenager. The 5'10" 155 lbs. young man likes hanging out with friends, listening to music and hates cleaning his room. However, this kid just made history as being the first amateur boxer to bring home two national championships to the state of Delaware. On October 5th, Kyrone "Shut It Down" Davis won the National PAL Boxing Championship. This is Kyrone's second National Championship win, his first win was at the Adidas National Tournament this past June. It is also his fourth national tournament this year in which he has placed in either the 1st, 2nd or 3rd place.
The National PAL Boxing Championship is one the major tournaments in the amateur boxing world. Over 500 boxers from the 35 states competed this year in Oxnard, California. In Davis' division, 165 lbs. middleweight, there were over 30 boxers. After dominating his opponents for four straight grueling days, Davis earned a deserving victory over Marquis Moore of Colorado in the finals on day six. Davis had something to prove after a close fight and coming in second place by decision to Moore at the 2013 National Golden Gloves in Salt Lake City, UT this past May. Davis not only received a fighter's ultimate revenge by beating Moore, but he proved he was the ultimate fighter by winning the "Best Elite Male Boxer" and the "Overall Best Male Boxer of the Tournament" Awards.
Kyrone Davis is an 18 year-old Wilmington, DE Eastside resident who has worked hard at his craft since the age of 8-years-old. He graduated in June from Christiana High School. The eldest of four children, Davis is a motivational speaker, certified life guard and a member of the Wilmington's Fire Explorers Post 100. Last year, he competed in the 2012 U.S. Olympic Trials in Colorado Springs, Colorado. He's a two-time Pennsylvania State Golden Gloves Champion, and a two-time PA Jr. Golden Gloves Champion. He placed 2nd at the National Golden Gloves Championship in Salt Lake City Utah this past May, and he won the bronze medal in the USA Boxing Tournament this past April in Spokane, WA, winning him a seat as an alternate on the USA Boxing Team.