Larry Holmes vs. Eric Esch
Jump to navigation
Jump to search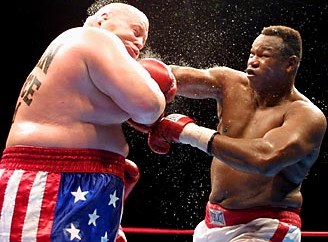 Larry Holmes 254 lbs beat Eric Esch 334 lbs by UD in round 10 of 10
NORFOLK, Va. (AP) When Larry Holmes entered the ring, the stereo boomed "Ain't No Stopping Us Now" and the crowd roared its approval. It was just like old times for Holmes.
But it didn't take long for the 52-year-old Holmes to show his age against Eric "Butterbean" Esch on Saturday night.
When Holmes danced in his corner during introductions, his flabby midsection jiggled. When he fired off his once-lethal left jab, his opponent shook it off as if his nose itched.
And when he sat on the stool in his corner between rounds, he panted like a dog in afternoon heat, his stomach jutting out, the sweat pouring off his brow.
Yet, there was no stopping the former champion.
He won a unanimous decision over Esch in a 10-round sideshow that pitted a graying grandfather against a blubbery, baldheaded brawler who had never fought more than four rounds.
If boxing had a senior tour, Holmes would be a champion again.
But it doesn't, so the proud, paunchy former heavyweight will just have to keep beating up on has-beens, never-weres and oddities like Esch, a 334-pound former Toughman champion who's made a name for himself in boxing as "the king of the four-rounder."
It was the first fight for Holmes in nearly two years - since he beat 49-year-old Mike Weaver. His rust was surpassed only by his slow feet, wooden gait and timid approach to the wild-swinging Esch.
He opened the fight with 10 consecutive jabs, but none did any damage. Both fighters seemed afraid of each other: Esch refusing to attack until Holmes did, and Holmes circling while he gathered the energy to punch again.
By the end of the round, the crowd of 7,097 at Norfolk Scope arena was booing the lack of action. The boos continued through the fifth round.
Neither fighter was ever in trouble. By the sixth round, Esch was bleeding from a cut over his left eye, but it wasn't serious.
In the 10th, a haymaker by Esch knocked Holmes backward and he appeared to trip, falling into the ropes in the corner. Referee Chris Wollesen gave him a standing eight-count, though, and he finished strong.
Notes
Betting odds varied greatly for this fight. Holmes was favored between 2-to-1 and 6-to-1, depending on sportsbook and timing.