Lew Hurley
Jump to navigation
Jump to search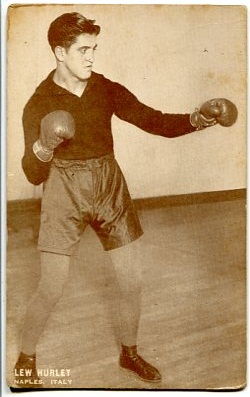 Name: Lew Hurley
Alias: Ludwig Sereca
Hometown: Harlem, New York, USA
Birthplace: Napoli, Campania, Italy
Height: 170cm
Pro Boxer: Record

Division: Featherweight
Manager: Mannie Seamon
Lew Hurley's verified professional fights are shown in the linked record. In addition, several more fights are listed in his published record (Everlast Boxing Record, 1926 and 1927 editions, as follows:
1921: Red Dunn, W KO-3; Jimmy Bunsey, W KO-1; Billy Newman, W-6 (a second fight with Newman that year).
1922: Frankie Ward, W KO-1; Boogey Hannigan, W KO-1; Tommy Geary, W KO-2; Al Burman, No Decision 10.