Lionel Rose
Jump to navigation
Jump to search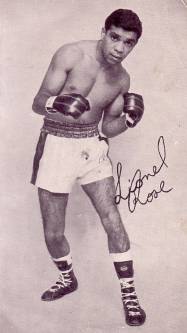 Name: Lionel Rose
Birth Name: Lionel Edmund Rose
Hometown: Melbourne, Victoria, Australia
Birthplace: Warragul, Victoria, Australia
Died: 2011-05-08 (Age:62)
Stance: Orthodox
Height: 166cm
Reach: 171cm
Pro Boxer: Record
Amateur Boxer: Record

Trainer: Jack Rennie
Sydney Morning Herald Photo Gallery: [1]

Biography
Lionel Rose (born June 21, 1948) was an Australian boxer who became the first aborigine in boxing history to win a world title. Rose grew up learning how to box while watching his father, also a professional boxer. He barely missed the 1964 Summer Olympics in Tokyo.
Rose began his professional boxing career on September 9, 1964, outpointing Mario Magriss over eight rounds. This fight was in Warragul, but the majority of Rose?s fights would be held in Melbourne.
After five wins in a row, on July 23, 1965, he was rematched with Singtong Por Tor, whom Rose had beaten by a twelve round decision. Por Tor inflicted Rose?s first defeat, beating him on points in six rounds. On October 14 of the same year, he had his first fight abroad, beating Laurie Ny by a decision in ten rounds at Christchurch, New Zealand.
Over his next nine fights, he had a record of eight wins and one loss, with one knockout. The lone loss in those nine fights was to Ray Perez, against whom Rose split a pair of bouts. Then, on October 28, 1966, Rose met Noel Kunde at Melbourne, for the Australian Bantamweight title. Rose won the regional belt by defeating Kunde by a fifteen round decision.
He won one more bout in 1966, and eight in 1967 (including a thirteenth round knockout win against Rocky Gattelari to defend his Australian championship) before challenging Fighting Harada for the world?s Bantamweight title on February 26 of 1968, in Tokyo. Rose made history by becoming the first Aborigine to be a world champion boxer when he defeated Harada by a fifteen round decision. This win made Rose an instant national hero in Australia, and an icon among Aborigines. On July 2 of that year, he returned to Tokyo to retain his title with a 15 round decision win over Takao Sakurai. Then, on December 6, he met Chucho Castillo at the Inglewood Forum in Inglewood, California. Rose beat Castillo by decision, but the points verdict in favor of him infuriated many in the pro-Castillo crowd, and a riot began, with fourteen fans and fight referee Dick Young requiring hospitalization to attend to injuries received during the riot.
Rose was Australian Of The Year in 1968, the first Aborigine to be so.
On March 8, 1969, Rose retained the title with a fifteen round decision over Alan Rudkin, but five months later, he returned to Inglewood, where he faced Ruben Olivares on August 22. Rose lost the world Bantamweight title to Olivares by a five round knockout.
A little known fact is that Rose presented young, burn attack victim Tjandamurra O? Shane with his world title belt after he had lost the championship to Olivares, as a way to encourage the youngster to have a quick recovery. O? Shane, also an Aborigine, had been the victim of a racially charged attack the year before.
Rose continued on boxing after his defeat against Olivares, but, after defeats against practically unknown fighters, many believed he was done as a prime fighter. However, Rose was far from finished: He upset future world Lightweight champion Itshimatsu Suzuki on October 10, 1970 by a ten round decision, and once again, he positioned himself as a world title challenger, albeit in the Lightweight division, seventeen pounds over the division where he crowned himself world champion.
Despite having lost to Jeff White for the Australian Lightweight title, Rose got another world title try when he faced WBC world Jr. Lightweight champion Yoshiaki Numata, on May 30, 1971, at Hiroshima. Numata beat Rose by a fifteen round decision, and Rose announced his retirement soon after.
In 1975, he came back, but after losing four of his next six bouts, including one against Rafael Limon, Rose decided to retire for good. In retirement, he did some jail time, and attended to his businesses. Unlike many boxers before and after him, Rose was able to manage his money and make good financial decisions, and he has enjoyed the monetary benefits his career brought him. Rose was showcased in 2002 in the Ring Magazine section Where are they now.

Boxer Lionel Rose was the first indigenous Australian to be named "Australian of the Year" in 1968 by Victorian Governor Sir Rohan Delacombe at Melbourne Town Hall.
The eldest of nine children, Rose grew up at Jackson's Track in Victoria's Gippsland region. He ran a cafe and also had a musical "hits" in 1970 with I Thank You and Please Remember Me. He often carried a pipe.
Reference sources