Lou Viscusi
Jump to navigation
Jump to search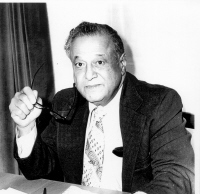 Born: June 15, 1909 in Schenectady, NY, USA
Died: August 10, 1997
Lou Viscusi grew up in Tampa, Florida, and moved to Hartford, Connecticut in 1929. He immediately began working as a manager and promoter. He promoted boxing, wrestling, and circuses. He managed three world champions: Willie Pep, Bob Foster, and Joe Brown.
Viscusi worked with Bill Gore, who handled the training of the fighters that he managed.
He was inducted into the Florida Boxing Hall of Fame in 2010. From the FBHOF:

Lou Viscusi, also known as Mr. Lou, was born in Schenectady, NY in 1909, but grew up in Tampa, Florida. Both a manager and a promoter, he made his mark in the New England area promoting boxing, wrestling and anything else people wanted to see. As a manager, he worked with welterweight Del Flanagan, middleweight Tony Licata and heavyweight Cleveland Williams. But he's best known for taking featherweight Willie Pep, lightweight Joe "Old Bones" Brown and light-heavyweight Bob Foster to world championships. Inducted into the International Boxing Hall of Fame in 2004, he died in August 1997.
---
Fighters Managed