Marvin Sonsona
Jump to navigation
Jump to search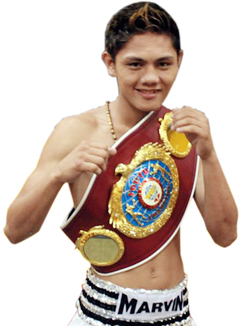 Name: Marvin Sonsona
Alias: Marvelous
Birth Name: Marvin Doecadez Sonsona
Hometown: General Santos City, Cotabato del Sur, Philippines
Birthplace: General Santos City, Cotabato del Sur, Philippines
Stance: Southpaw
Height: 170cm
Pro Boxer: Record

Trainers: Nonito Donaire Sr. (former), Jhun Agrabio (former)
Promoter: Sampson Boxing LLC (present)
Manager: Rajan Yraola


Amateur Career
Started boxing as an amateur at the age of 7 and had 150 amateur fights before turning professional in 2007, just weeks before his 17th birthday. He was a 5-time gold medalist, 10-time silver medalist, and 9-time bronze medalist as an amateur, as well as being the Batang Pinoy Champion of the 2002 Puerto Princesa City Tournament.[1]
Professional Record
Has a record of 1-1-1 (0 KO) in world title fights.
Has a record of 4-1 (2 KOs) against former or current world champions:
Has a record of 4-1-1 (1 KO) in fights outside his native Philippines.
Regional & Minor Titles
World Titles
WBO World Super Flyweight Title (September 2009-November 2009; 0 defenses)
Notes