Mike Tyson vs. Francois Botha
Jump to navigation
Jump to search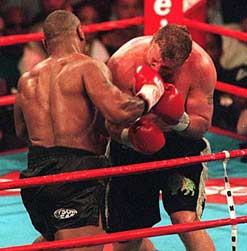 Mike Tyson 223 lbs beat Frans Botha 234 lbs by KO at 2:59 in round 5 of 10
Notes
Tyson was trained by Tommy Brooks for this fight.
Francois Botha was Mike's first opponent after his controversial second match with Evander Holyfield, which took place in June 1997. Tyson was banned for one entire year and was off in total for 1.5 years prior to facing Botha.
The fight saw Botha ahead on all scorecards until Tyson connected with one tremendous right hand that finished the match. Tyson threw a right while Botha was moving forward right into Tyson's punch. Botha was badly hurt and failed to beat the count. Botha tried to get up twice but failed, Tyson assisted the referee in helping Botha get up when the bell had rung. After the fight, Tyson stated at the press conference that he felt rusty.
At the end of round one there had been some controversy when Tyson held Botha's left arm, who punched at Tyson in order to get free. Later, Tyson said he had tried to break Botha's arm. Referee Steele deducted 2 points from Tyson.
Botha entered ranked as the # 2 heavyweight contender by the IBF.