Nat Loubet
Jump to navigation
Jump to search
Sports Editor & Publisher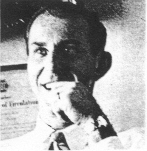 Nat Loubet was the editor and publisher of The Ring magazine from October 1972 to September 1979.
Loubet was the son-in-law of Nat Fleischer, who founded The Ring in 1922. Loubet was managing editor of the magazine until Fleischer's death in 1972. He then succeeded Fleischer as editor and publisher.
In 1979, Loubet sold the magazine to Bert Sugar, Dave DeBusschere, James Bukata, and Nicholas Kladis for $488,000.
Loubet passed away at age 86 on March 25, 2004.