Oscar Natalio Bonavena
Jump to navigation
Jump to search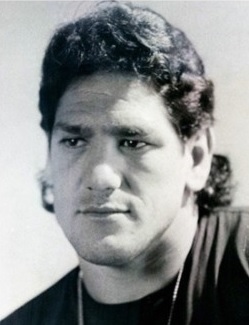 Name: Oscar Bonavena
Alias: Ringo
Birth Name: Oscar Natalio Bonavena
Hometown: Reno, Nevada, USA
Birthplace: Buenos Aires, Distrito Federal, Argentina
Died: 1976-05-22 (Age:33)
Stance: Orthodox
Height: 179cm
Reach: 185cm
Pro Boxer: Record

Oscar Bonavena Photo Gallery
Career Overview
Oscar Bonavena, 33, was found shot to death at the famed Mustang Ranch bordello on May 22, 1976, in Virginia City, just outside of Reno, Nevada. A ranch security guard, Willard R. Brymer, 31, was arrested and charged with Bonavena's murder. Bonavena was shot once in the chest by a bullet from a high-powered hunting rifle. He was believed to have died instantly. Brymer served less then 10 years for Bonavena's death.
Bonvena's murder ended his colorful and controversial ring career. The Ring editor Nat Fleischer called Bonevana "The most powerful fighter I've ever seen". Ringo, as Bonavena was known to many, began his early career in New York State under the management of World War II hero and dentist, Marvin Goldberg. Among his trainers was Charley Goldman. The "Argentine Strong-Boy" racked up a quick string of early knockouts, but was overmatched early and lost by decision to highly-rated Zora Folley. After that, it was off to Argentina, where he went on another winning streak. However, the free-swinging Bonevena ran into trouble outside the ring with "off-beat" remarks, lawsuits brought about by reporters with broken cameras, and other such "colorful" events.
Bonavena defeated George Chuvalo by a majority decision in 1966. In his next fight, he became the first fighter to knock down Joe Frazier, but lost a split decision to Smokin' Joe. In 1968, he took part in the WBA's heavyweight elimination tournament, defeating Karl Mildenberger before losing a decision to Jimmy Ellis.
Shortly after he defeated Zora Folley to avenge his first pro loss, Bonavena fought a rematch with Frazier for the NYSAC heavyweight title, losing a fifteen-round unanimous decision. In 1970, he fought Muhammad Ali for the NABF heavyweight title. Ali had a very tough fight with the Argentine before stopping him in the 15th round, the only stoppage loss of Bonavena's career.
In 1972, Bonavena broke his hand in an upset loss to Floyd Patterson. He then won eleven of his next twelve, losing only to Ron Lyle. He was in the midst of a seven-fight win streak when he was shot and killed. His funeral was attended by thousands in Argentina, and his send-off was fit for royalty.
Trivia
Bonavena acted in three Argentina movies from 1966-1975
Category