Pat Valentino
Jump to navigation
Jump to search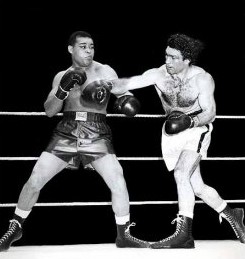 Name: Pat Valentino
Alias: Pat Guglielmi
Birth Name: Pasquale Guglielmi
Hometown: San Francisco, California, USA
Birthplace: San Francisco, California, USA
Died: 2008-07-25 (Age:88)
Stance: Orthodox
Height: 182cm
Reach: 183cm
Pro Boxer: Record
Amateur Boxer: Record

Division: Heavyweight
Manager: Tommy Cello (1938-39), Jack Andrade, Dolph Thomas (1947)
Photo #2, Photo #3
Pat Valentino boxed as Pat Guglielmi until September 1939. He adopted his fighting surname from a second cousin: 1920s Hollywood screen legend Rudolph Valentino, whose real name was Rodolfo Alfonso Raffaello Pierre Filibert Guglielmi di Valentina d'Antonguolla.
Valentino fought such fighters as Solly Krieger, Melio Bettina, Jimmy Bivins (twice) and Joey Maxim (twice).
On October 14, 1949, Valentino challenged Ezzard Charles for the National Boxing Association heavyweight title in San Francisco and lost by an eighth-round knockout.
Valentino boxed an exhibition against Joe Louis in Chicago on December 7, 1949, and was knocked out in the eighth round. Valentino retired after the exhibition.
Following his retirement from boxing, Valentino worked as a maitre d' at Scoma's Restaurant in San Francisco.
Valentino died from pneumonia at age 88 on July 25, 2008.
An article titled "A Second Life: The Career of Pat Valentino" by Carlos Acevedo appeared in IBRO Journal Issue No. 110.