Pinklon Thomas vs. Trevor Berbick
Jump to navigation
Jump to search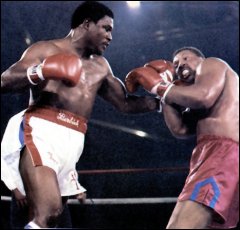 Date: 1986-03-22
Location: Riviera Hotel & Casino, Las Vegas, Nevada, USA
Referee: Richard Steele
Judge: Art Lurie 115-114

1
2
3
4
5
6
7
8
9
10
11
12
 

Judge: Paul Smith 115-113

1
2
3
4
5
6
7
8
9
10
11
12
 

Judge: Arlen Bynum 115-113

1
2
3
4
5
6
7
8
9
10
11
12
 

BERBICK WINS W.B.C. CROWN
Associated Press, March 23, 1986
LAS VEGAS, Nev., March 22 — Trevor Berbick, a 6½-1 underdog, got into the trenches with previously unbeaten Pinklon Thomas and took away the World Boxing Council heavyweight championship tonight with a unanimous 12-round decision.
It was a fight of attrition and Berbick simply wore down Thomas with his strength and quickness.
Berbick's victory before a crowd of about 2,000 people in the Riviera ballroom, made him a champion on his second attempt. He failed to win the W.B.C. title when he lost a 15-round decision to Larry Holmes here on April 11, 1981.
There were no knockdowns but both the meanness and toughness of the battle showed on both fighters' faces. Berbick was marked about both eyes and Thomas was cut in the corner of his left eye.
Thomas also almost went down in the 11th round when he was put back on his heels by a tremendous left hook to the head. Berbick followed with several hard shots to the head but Thomas fought back and got out of trouble.
Judge Paul Smith of Las Vegas and Jude Spider Bynum of Dallas each scored it 115-113 for the 31-year-old Berbick, a native of Jamaica who lives in Miami. Judge Art Lurie favored the new champion, 115-114.
The loss for Thomas came in the second defense of the title he won on a 12-round decision over Tim Witherspoon here Aug. 31, 1984.
His record now is 26-1-1 with 21 knockouts.
By winning, Berbick took a step toward making some big money. The fight was the first of a series of at least seven heavyweight title bouts whose goal is to crown an undisputed champion in 1987.