Reg Kray
Jump to navigation
Jump to search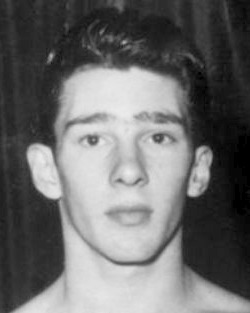 Name: Reg Kray
Birth Name: Reginald Kray
Hometown: Bethnal Green, London, United Kingdom
Birthplace: Hoxton, London, United Kingdom
Died: 2000-10-01 (Age:66)
Height: 170cm
Pro Boxer: Record


Along with his twin brother Ron, Reggie Kray was part of one of the most feared "gangland teams" in London.
Part of their story: [1]
Biography
At 8:00 a.m., 24 October 1933, Reggie Kray was born. Ten minutes later his identical twin Ronnie made an appearance.
When the Twins were boxing at an amateur level, they were helped by their brother Charlie, who first introduced them to boxing.
Once a fairground came to Bethnal Green with its dodgems, roller coaster and boxing booth. In those days the audience were invited to fight any of the fairground fighters for a cash prize. If they could last three rounds they won a pound. During the interval the crowd were invited to fight each other for cash. Reg and Ron stepped into the ring and proceeded to batter each other. They collected seven shillings and sixpence between them for the fight and ran home to tell the family. They considered themselves paid fighters.
Although the Twins were very close, they would often fight each other toe-to-toe. After one of the many rows they had, Ronnie climbed onto the roof of a train station and threatened to kill himself by throwing himself onto the tracks. That demonstrated the intensity of their relationship.
When they were fifteen-years-old the local papers were writing about the Twins' exploits in the ring. In 1948 Reg was the Schoolboy Champion of Hackney and went on to win the London Schoolboy Boxing Championships, as well as being a finalist for the Great Britain Schoolboys Championship. In 1949 he became the South Eastern Divisional Youth Club Champion and the London ATC Champion.
Ron was also the Schoolboy Champion of Hackney and won the London Junior Championships, and a London ATC title.
Their brother Charlie recalls: "As boxers, the Twins were quite different from each other. Reggie was the cool, cautious one, with all the skills of a potential champion and importantly, he always listened to advice. Ronnie was a good boxer too, and very brave. But he would never listen to advice. He was a very determined boy with a mind of his own. If he made up his mind to do something, he'd do it, no matter what, and unlike Reggie he would never hold back. He would go on and on until he dropped".
These same characteristics shown in the ring were to be seen later on in their business activities to devastating effects.
By the age of sixteen Ronnie and Reggie were becoming notorious in the East End. They had their own gang and caused mayhem in the surrounding areas. They were barred from most of the cinemas and dance halls in the area.
There were always gang fights in the East End, so it was commonsense to have a weapon at hand or be able to get one pretty quick. The Twins usually carried a knife but could call on almost any weapon from their arsenal underneath their bed at Vallance Road. They were just as happy to use a weapon as use their fists, and they wouldn't stop until their opponents were completely subdued.
When they were twelve they had their first real brush with the law. They were put on probation for firing an air rifle in a public place.
Now sixteen, they were arrested and charged with "Greivious Bodily Harm" for an attack on a rival gang outside a dance hall in Mare Street, Hackney. The Rev. R. N. Hetherington stood as a character witness for the Twins. He ran a small youth club in the area and the boys would run errands for him. This association really paid off. They were acquitted of all charges due to lack of evidence.
The Judge remarked: "Don't go around thinking you are the Sabini brothers," (who were well-known gangsters of the time). Years later the Sabini brothers and the Krays became friends.
Aged seventeen the Twins were in trouble again. They were standing outside a cafe in Bethnal Green Road with some friends when a policeman told them to move on and he pushed Ron in the back. Ron didn't let anyone push him around; he hit the policeman and they all ran off. Later when the police tried to arrest Ron, Reggie got involved and they were both arrested and charged with assault. But thanks again to the Rev Hetherington they received probation.
They were now boxing professionally. Ron had six fights, won four of them and lost two. Reg had seven fights and won them all. They could have made a career out of boxing had they not been called up into the Army a few months later.
At eighteen years of age the Twins were called up to do their National Service. It wasn't something they wanted to do but thought that if the Army were to let them be Physical Training Instructors then they would suffer it. This wasn't to be and they spent the next two years either on the run or locked up in the guardhouse.
While on the run they ended up in court again for assaulting a policeman. This time they were given a month in Wormwood Scrubs and on release they were sent to Canterbury barracks to be court-martialed. They escaped before they reached their destination but were captured twenty-four hours later. They spent the rest of their National Service in the glasshouse at Shepton Mallet.
It was here that the Twins first met Charlie Richardson, who, in later years became their gangland rival.
Reggie died after more than three decades in prison and 35 days of freedom. Sentenced to life in prison for murder in 1969, he was granted compassionate parole by Labor Party Home Secretary Jack Straw on Aug. 26 because of having bladder cancer.
Reggie Kray spent some of his years in prison in a cell furnished, according to fellow prisoners, with wall-to-wall carpet, fish tanks and an imitation oak-beam ceiling. His supporters included Roger Daltrey of The Who, who once owned film rights to the twins' story, and Mike Tyson, who publicly thanked Reggie Kray for writing him a supportive letter during his own imprisonment for rape.