Riddick Bowe vs. Jorge Luis Gonzalez
Jump to navigation
Jump to search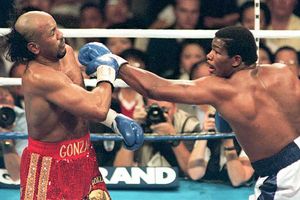 Date: 1995-06-17
Location: MGM Grand, Las Vegas, Nevada, USA
Referee: Mills Lane
Judge: Jerry Roth 50-45

1
2
3
4
5
 

Judge: Duane Ford 50-45

1
2
3
4
5
 

Judge: Chuck Giampa 50-44

1
2
3
4
5
 

Bowe Uses Fists to Close Gonzalez's Mouth
Associated Press, June 18, 1995
LAS VEGAS — Riddick Bowe, coolly efficient instead of boiling mad, bolstered his claim of being the best heavyweight in the world with a devastating performance against Jorge Luis Gonzalez on Saturday night.
Avenging an amateur loss to Gonzalez in 1987, Bowe battered the 6-foot-7 Cuban for five rounds and then knocked him out with a right to the head at 1:50 of the sixth round to retain his World Boxing Organization championship at the MGM Grand Garden.
"I'm sorry for him," Bowe said. "I'm not mad anymore."
It was sweet revenge for Bowe, who had been knocked down and beaten by Gonzalez in a Pan American Games bout.
At that time, Gonzalez was a much more experienced amateur than Bowe. But this time, Bowe showed he was a much better professional fighter than Gonzalez. Gonzalez came into the ring gesturing and shouting while Bowe stayed businesslike. After the fight began, the champion dominated from the opening bell.
Bowe never let Gonzalez into the fight. The champion landed 99 of 120 left jabs, many of them hurting Gonzalez and two of them sending him reeling across the ring late in the fourth round.
Bowe connected on 188 of 302 punches; Gonzalez landed only 52 of 161.
One of the jabs Bowe missed was just before he threw the right hand that dropped Gonzalez face-down near his corner, where referee Mills Lane counted him out. There was never any doubt Gonzalez was down for good.
"I knew if I would use my jab he would fold when he did," Bowe said. "I wanted to recapture what I once had--to step up to the plate and be my best. I wanted the people to say: 'Riddick Bowe was back.' I was determined to look good and be sharp."
Asked if the ill-will he felt toward Bowe affected his performance, Gonzalez said: "When you get a lot of hate, sometimes you get too aggressive. Sometimes it just doesn't work out for you."
It was Bowe's fourth fight since he lost to Evander Holyfield in 1994, and the first time the 6-foot-5 fighter was impressive since before that.
Bowe, 243, is 37-1 with 31 knockouts; Gonzalez, 237, is 23-1.
Bowe's purse, according to the state athletic commission, was $1 million. Gonzalez made $300,000. [1]