Ring Magazine: February 1936
Jump to navigation
Jump to search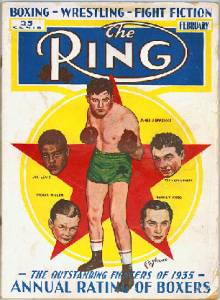 Cover: "The Outstanding Fighters of 1935" (from left, clockwise): Joe_Louis (his first cover appearance), James J. Braddock, Tony Canzoneri, Barney Ross, Freddie Miller

Article topics include:

The Ring's Ranking of Boxers for 1935 Topped by Dynamic Joe Louis by Nat Fleischer.
How Boxers of the World are Grouped by "The Ring" for 1935.
New York and Coast Fighters.
Six World Championships Changed Hands in 1935.
Tex's Last Days - Famous Scribe Recalls His Last Meeting with Magnetic Promoter.
The Rings Globe Trotter.
Successor to Pancho Villa.
Max Baer's Future - The Fever of unrest is beginning to assert itself in former champion, retired on a California Ranch.
They Could Hit.
Proteges of Champions.
Filipino and U.S. Club Pleasers.
Nat Fleischer says - England sends a real fighter in McAvoy New York board is unjust to Freddy Miller who asked Jack Sharkey to stage comeback?
Half a Century with Wrestlers - George Bothner, Gray-Haired Marvel of the Mat Sport, relates his Ring Experiences and discusses Grapplers,
Past and Present (Tom Jenkins, Pierre Colosse, George Bothner and Youssuf, the terrible Turk).
Botchy Bacigalupl - Big Italian wrestlers spends spare time hunting snakes.
From Milo to Londos to O'Mahoney - James Quigley, George W. Flagg, Lucien Marc Christol, Walter E. Brown, Joe Acton, Charles Flynn
Duncan C. Ross and James C. Daly etc.
New of the Mat World - Ray Steele, Sandor Vary, Bill Sledge, Ellis Bashara, Dick Dunn, Dick Shikat and Jim Londos etc.
Ernie After Mat Title - Dusek, one of Two Men going limit with Champion O'Mahoney and only one to hold him to a draw.
From Hollywood to New York.
A Corner in the Fistic Market.