Ron Richards
Jump to navigation
Jump to search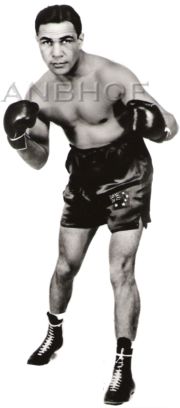 Name: Ron Richards
Birth Name: Randall William Richards
Hometown: Sydney, New South Wales, Australia
Birthplace: Ipswich, Queensland, Australia
Died: 1967-01-14 (Age:56)
Stance: Orthodox
Height: 179cm
Reach: 184cm
Pro Boxer: Record

Born Randell William Richards, at Ipswich, QLD in 1910, Ron Richards was often ranked by boxing experts as one of the finest boxers ever produced in this country.
He took the Australian middleweight championship in 1933 and held it again from 1936 to 1942. Richards was also Australian light heavyweight champion between 1937 and 1941 and heavyweight champion between 1936 and 1938 and 1940-41. His middleweight battles with Fred Henneberry will long be remembered by boxing fans.
An indigenous Australian, Richards was a good looking, tough boxer and expert counter-puncher His rise to prominence in Australian boxing began when he started fighting in Smally Higgins's boxing tent at Boonah at the tender age of 15.
Amongst his greatest fights was his victory over Gus Lesnevich, who went on to become world light heavyweight champion in 1941. Richards died in Sydney in 1967.
Ron Richards was inducted into the Australian National Boxing Hall of Fame in 2003.