Servilio de Oliveira
Jump to navigation
Jump to search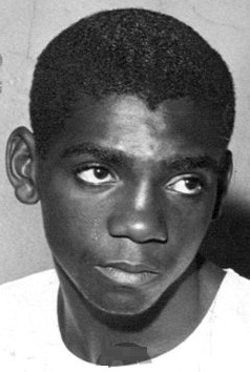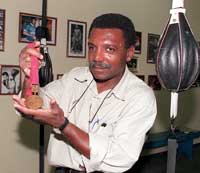 Name: Servilio de Oliveira
Alias: Eder de Ebano
Birth Name: Servilio Sebastião de Oliveira
Hometown: Santo Andre, Sao Paulo, Brazil
Birthplace: Sao Paulo, Sao Paulo, Brazil
Height: 159cm
Pro Boxer: Record
Amateur Boxer: Record


Biography
In 1963, influenced by my older brothers, I started going to the gym Caracu Boxing Club in Aurora Street near the Plaza de Republica, the old center of Sao Paulo. In 1965, with the closing of Caracu Boxing Club, I transferred to the academy Flamingo, Calle Florencio de Abreu, lane Avenida Senador Queiroz. There, in 1966, in the final round of the traditional championship debutants in the Sports Gazette, with the Gymnasium Pacaembu crowded, I was beaten on points by Mourival Rodrigues Maiaat the Sports Club of the Rock.
Soon after having won the league title in the Sports Gazette, and also having won the tournament of champions, I started to defend the colors of the Athletic Club Pirelli, under the command of the master, Antonio Angelo Carollo, one of Brazilian coaches, more winners, present in five Olympic Games.
(Mexico City 1968, Munich 1972, Montreal 1976, Moscow, 1980, Barcelona, 1992.
Amateur Highlights
Record: 30-5
1966 - Champion Championship The Sports Gazette
1966 - Vice Champion Paulista
1966 - Champion of Champions Tournament
1967 - Champion Paulista
1967 - 4 th Set in the Pan American Games in Winnipeg, Canada
1967 - Brazilian Champion
1967 - Champion of Champions Tournament
1968 - Champion Paulista
1968 - Champ Latin America (Santiago, Chile)
1968 - Brazilian Champion
Olympic games results
Notes
The only Brazilian to win an Olympic Medal (Bronze) at the 1968 Games in Mexico.
Shortly before a scheduled South American title fight with Martin Vargas in Chile, a medical examination revealed De Oliveira could not see out of his right eye. The fight, scheduled for March 10 1978, was cancelled and De Oliveira subsequently retired.
Trainer of IBF Featherweight Champion Valdemir Pereira.