Terry Allen
Jump to navigation
Jump to search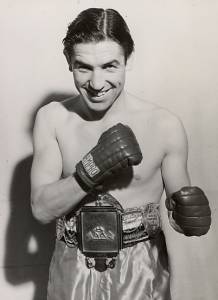 Name: Terry Allen
Alias: Ted Gover
Birth Name: Edward Albert Govier
Hometown: Islington, London, United Kingdom
Died: 1987-04-08 (Age:62)
Stance: Orthodox
Height: 157cm
Reach: 163cm
Pro Boxer: Record

Photo #2, Photo #3
Edward Albert Govier changed his name to that of his best friend, Terry Allen, who had been killed while serving in World War II.
Allen's father was a professional boxer. His mother died when he was two-years-old. He was raised by his grandmother. Six cousins were also pro boxers.
Allen had his first amateur bout at the age of eight. He won the North London Schoolboy Championship at seventy pounds, and at fifteen he was juniour champion of North West GB.
In 1942 he joined the Royal Navy and whilst in basic training knocked out George Howe (London Boxing Federation Champion).
Allen worked as a barrow boy at the beginning of his boxing career, and afterwards he was able to open his own vegetable business in Islington Market.