Tommy Harrison
Jump to navigation
Jump to search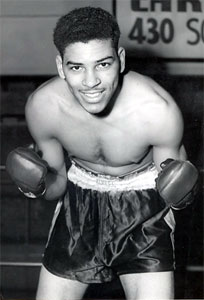 Name: Tommy Harrison
Hometown: Santa Ana, California, USA
Birthplace: Philadelphia, Pennsylvania, USA
Died: 2017-04-14 (Age:85)
Pro Boxer: Record

Tommy Harrison was the subject of a movie Resurrecting the Champ in which he was portrayed by Samuel L. Jackson. Harrison, then homeless in Santa Ana, CA, claimed he had fought under the name of "Battlin" Bob Satterfield. He actually had not, but was ranked higher than Satterfield by The Ring magazine in 1953.
Although sometimes listed as being born in 1929 in Kingston, Jamaica, he was actually born in 1931 in Philadelphia. [1]