Wee Willie Davies
Jump to navigation
Jump to search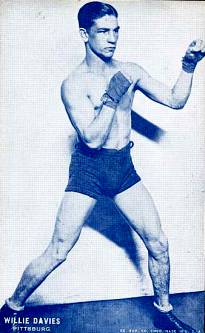 Name: Willie Davies
Alias: Wee Willie
Birth Name: William P. Davies
Hometown: Roscoe, Pennsylvania, USA
Birthplace: Nantyffyllon, Wales, United Kingdom
Died: 1968-07-19 (Age:61)
Stance: Orthodox
Height: 163cm
Pro Boxer: Record



Born in Wales and moved to USA as an infant.
His brother Dave also fought as amateur and professional.
He was not a citizen in 1924 and therefore could not particpate in Olympic Trials for the USA.
According to the U.S. Census Records database on the Ancestry.com database, one William Davies, 23 years of age, was living with his wife, son and some other relatives in Speers, Washington County, Pennsylvania during 1930. A "professional fighter" and a native of Wales, he owned his home, which was valued at $7,500.