Victor (Young) Perez
Jump to navigation
Jump to search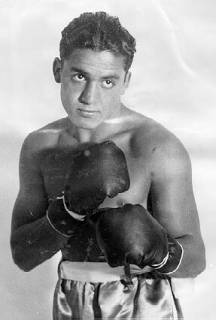 Name: Young Perez
Birth Name: Victor Perez
Hometown: Paris, France
Birthplace: Tunis, Tunisia
Died: 1945-04-02 (Age:33)
Height: 155cm
Pro Boxer: Record

Division: Flyweight
Manager: Leon Bellier
Photo #2


Victor 'Young' Perez, brother of fellow boxer Benjamin 'Kid' Perez, was of Tunisian-Hebrew heritage. He was the first Hebrew fighter from North Africa to win a world championship. He preceded the many outstanding Jewish fighters who came out of North Africa after World War II. Perez began boxing for Club Maccabi in Tunis in 1923. The boxing club was run by a famous Tunisian boxing trainer named Joe Guez. Several other notable fighters were part of this club and trained by Guez including Benjam "Kid" Perez, Edmond Zerbib and Billy Smadja.
Perez supposedly remained in France during World War II because he was in love with the French actress Mireille Balin [1].
According to information at CyberBoxingZone.com, Perez was sent to the Auschwitz Concentration Camp on October 10, 1943, as part of "Convoy 60"-- group of 1,000 prisoners shipped from Drancy, France. While at Auschwitz, Perez was forced to participate in boxing matches for the amusement of the Nazis. By 1945, Perez was one of just 31 survivors of the original 1,000. In March 1945 the Camp was evacuated. The Nazis reportedly shot and killed Perez on the ensuing "Death March."
Victor Perez is a member of the International Jewish Sports Hall of Fame.