Billy Collins Jr.
Jump to navigation
Jump to search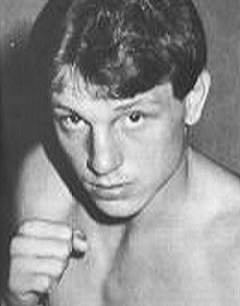 Name: Billy Collins Jr
Alias: Irish
Birth Name: William Ray Collins
Hometown: Atlantic City, New Jersey, USA
Birthplace: Nashville, Tennessee, USA
Died: 1984-03-06 (Age:22)
Stance: Orthodox
Reach: 174cm
Pro Boxer: Record
Amateur Boxer: Record

Trained by his father, also named Billy Collins who boxed during the 1950s and 1960s.
Notable Fights
Billy Collins Jr. vs. Luis Resto
The fight was originally ruled a Unanimous Decision in favour of Resto, however it was changed to a No-Contest after Luis Resto and his trainer were convicted of tampering with his gloves before the fight.
Billy Collins Jr. vs. Bruce Strauss
Collins went into the fight with a pro-record of 4-0-0, whilst Strauss had a record of 60-32-3, Collins won the fight by 3rd round KO.
Year by Year Record
1981: 1-0
1982: 10-0
1983: 3-0-0-1
Death
Billy Collins Jr was killed March 8, 1984, in an automobile accident in Nashville. Quote from The Washington Post: "OBITUARY Billy Collins, 23, ex-boxer, wrecked a car into a creek in Nashville area; officers cited 'speeding and drinking.'"