Billy Daniels
Jump to navigation
Jump to search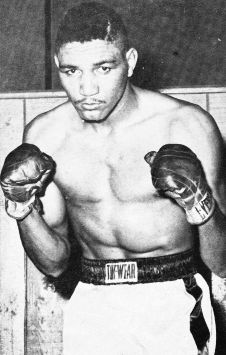 Name: Billy Daniels
Alias: The Barber
Birth Name: William Dewey Daniels
Hometown: New York, New York, USA
Birthplace: Columbus County, North Carolina, USA
Died: 2017-07-29 (Age:79)
Stance: Orthodox
Height: 193cm
Pro Boxer: Record
Amateur Boxer: Record

(note: pix on poster is definetly Rodney Bobick is NOT Duane Bobick)
Career Review
Billy Daniels was a promising heavyweight in the early 1960s. Daniels stood 6 feet 4 inches and in his prime weighed 185 pounds.
He served in the U.S. Airforce from 1956-1960, and fought on the US Airforce Boxing Team. In 1956, he won the Bratanica Shield 175lbs. Title. A year later he captured the 12th Airforce, USAEF, and Bratanica Shield Lightheavyweight Titles.
Daniels was trained by future world lightheavyweight champion Bob Foster while in the Airforce. In 1958, Daniels won the 12th Airforce, USAEF, Bratanica Shield, All-Air Force, and CISM Championships.
Upon his discharge in 1960, Daniels won the New York Golden Gloves Heavyweight Title. He retired from amateur boxing with a record of 45-5.
Daniels was a good boxer with decent punching power. He racked up an undefeated record of 16-0. Following a knockout over Mike DeJohn, Daniels was rated 10th in the World Heavyweight rankings in Ring Magazine for the month ending November 21, 1962.
Billy Daniels was featured on the cover of the October 1962 The Ring magazine, along with a young Muhammad Ali. In a battle of undefeated prospects, Daniels was stopped on cuts by Ali.
Following his loss to Ali, Daniels went on to score an upset decision over highly rated Doug Jones to earn a birth in a heavyweight title elimination tournament. In the opening round, Daniels was decked and lost a one-sided decision to Cleveland Williams. After the loss to Williams, Daniels' once promising career took a nosedive. He started losing, and after suffering a 6th round knockout loss to Joe Frazier and a first round loss to Jerry Quarry, Daniels retired to concentrate on his barber business.
In 1972, after a five year layoff, Daniels returned to the ring, only to drop an upset decision to Bob Stallings in New York. Daniels managed to score back-to-back 10 round decision victories and earned a fight with undefeated Duane Bobick who was 19-0 (19 knockouts). Daniels surprised Bobick and the experts, by not only lasting the distance, but by putting up a good fight.
Daniels was slated for a rematch with Bobick, but took a tune-up in California against promising Pedro Lovell. Daniels was stunningly knocked out in under 3 minutes.
Billy Daniels continued to fight until the age of 40. He even managed to box a 10 round draw with hard-punching Jeff Merritt.
Source
Ring Magazine, November 1961, page 24: HIGH-LOW AND IN THE MIDDLE, by Lew Eskin.