Pedro Lovell
Jump to navigation
Jump to search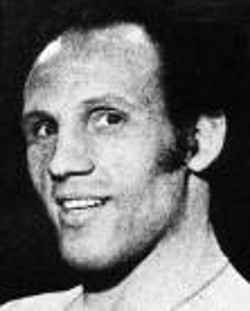 Name: Pedro Lovell
Birth Name: Pedro Osvaldo Lovell
Hometown: Los Angeles, California, USA
Birthplace: Quilmes, Buenos Aires, Argentina
Stance: Orthodox
Height: 191cm
Pro Boxer: Record


Career Review
Pedro Lovell was a heavyweight knockout artist with a promising career in the 1970s.
Lovell came from a family of fighters. He was the son of Alberto Lovell, nephew of Guillermo Lovell, and brother of Alberto Lovell, Jr.
Lovell, a citizen of Argentina, decided to make his professional career in the United States. He traveled to California, where after only a few fights, became a big drawing card.
While his brother Alberto, Jr. was fighting in Argentina, and knocking out the likes of Jose Manuel Ibar Urtain, Pedro racked up a string of 9-straight knockouts. However, Pedro's career was hampered by physical injuries and prostate problems.
In 1973, Lovell was upset by Texas knockout king Terry Krueger. Lovell had been winning the fight. He bloodied Krueger's nose and seemed headed for an easy stoppage. However, Krueger let go with a wild left hook, and Pedro Lovell's undefeated streak ended, and he was knocked out for over 3 minutes.
A few months later, the pair were rematched, and Lovell broke Krueger's nose on the way to scoring 3 knockdowns and a first round victory. Lovell went on to destroy former heavyweight contender Billy Daniels in one round.
Lovell was on the road to a title fight. He played the part of one of Rocky's opponents, Spider Rico, in the movie Rocky (Film) (1976). He appeared in the The Ring Magazine and on television. He took his impressive record of knockouts into a nationally televised fight with Ken Norton. However, Norton easily took apart Lovell; knocking him out. A short time later, Lovell fought to a draw with undefeated Leroy Jones, who would later fight Larry Holmes for the WBC heavyweight championship of the world. He then lost a 10-round decision to future WBA heavyweight world champion Mike Weaver, and then retired.

Some 30 years after the first Rocky (Film), Lovell reprised his role as Spider Rico (this time as Rocky's spiritual advisor) for the film Rocky Balboa in 2006.