Chris Dundee
Jump to navigation
Jump to search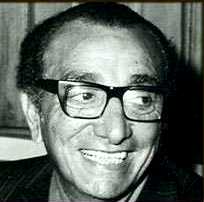 Chris Dundee was a boxing manager and promoter. He managed approximately 300 boxers and promoted hundreds of fights.
Dundee was born Cristofo Mirena in Philadelphia, Pennsylvania. He is the younger brother of club fighter Joe Dundee and the older brother of manager and trainer Angelo Dundee. The brothers took the name Dundee from two-division world champion Johnny Dundee.
Dundee started managing boxers in 1928 and began promoting fights in 1932. In 1950, with the completion of the Miami Beach Convention Center, Dundee moved his base of operations from New York City to Miami Beach and promoted boxing and wrestling at the Convention Center for 27 years.
Dundee opened the 5th Street Gym in 1950. It was located at the corner of 5th Street and Washington Avenue in Miami Beach, Florida.
In 1977, Dundee received the James J. Walker Award for Long and Meritorious Service from the Boxing Writers Association of America.
Dundee was elected into the International Boxing Hall of Fame (Non-Participant Category) in 1994, joining his younger brother, Angelo Dundee, who was inducted in 1992. Both brothers are also inductees into the World Boxing Hall of Fame (Expanded Category) and the Florida Boxing Hall of Fame.
Dundee died on November 16, 1998, at age 91.
Notable Boxers Managed
Notable Fights Promoted
External Link