Dave Miller (Manager)
Jump to navigation
Jump to search
Tacoma Boxing Manager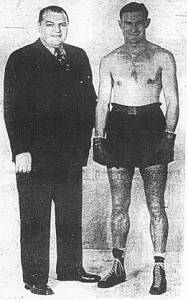 Dave Miller (1901-1937) is best-known for managing World Middleweight Champion Freddie Steele. He also handled light heavyweight contender Fred Lenhart, Don Fraser, Soldier Morrow (per the Nov. 4, 1927 Tacoma News Tribune), Young Ketchel (June 26, 1929 TNT), and Neil Kilbane (Sept. 4, 1929 TNT), among other boxers of the day.
Miller also owned a hotel in Tacoma. And he ran the concessions for Tacoma's minor league baseball team and at the old Longacres horse-racing track in Tukwila, among other business interests.
Miller died after mastoid surgery on August 25, 1937. The stress of handling his many business operations, and the career of Steele in the summer of 1937, when Steele went to the east coast, may have played a part in his untimely death. His death likely played a large part in Steele's decline soon after, since Steele saw Miller as both a close friend and a father figure.
His brother, Eddie Miller, then took over the handling of Steele and his other boxers after his death. (There was a third brother, George Miller, who died of heart failure Sept. 27, 1950, in Seattle, WA.)