Freddie Steele
Jump to navigation
Jump to search

Name: Freddie Steele
Alias: Tacoma Assassin
Birth Name: Frederick Earl Burgett
Hometown: Tacoma, Washington, USA
Birthplace: Seattle, Washington, USA
Died: 1984-08-22 (Age:71)
Stance: Orthodox
Height: 178cm
Reach: 183cm
Matchmaker: Record
Judge: Record
Referee: Record
Pro Boxer: Record
Amateur Boxer: Record


Biography
Future World Middleweight Champion Freddie Steele was born 1912 in Seattle, not Tacoma (as was commonly recorded), according to Tacoma News-Tribune articles upon his death. His family later moved to the Concrete, WA, area, where a very young Steele became enamored of budding boxer Tod Morgan--another future World Champion and International Boxing Hall of Fame inductee (2022). (Steele would try to tag along with Morgan on the boxer's road-work in the Concrete area, circa 1920.) Steele's family soon after lived in Southeast Alaska at some time during this period, then moved to Bellingham, WA, where Steele began his boxing career.
The earliest documented bout for the then 13-year-old Freddie Steele was a win over Red (Kid) Benedict October 20, 1926 at Bellingham. It was attributed to a "Kid Steele" by the Bellingham American newspaper. The Bellingham Herald described it as a three-round amateur bout. (His manager at this time was George McAllister of Bellingham.) Steele then began a long winning streak as a professional boxer. (The Bellingham American, on June 25, 1926, mentioned that a certain Steele had hit the winning run, playing in a baseball game for the First Baptist Church. Was this Freddie Steele?) By the following year Steele had moved to Tacoma, WA.
According to March 23, 1936 Tacoma News-Tribune, Steele had:
Played two years of basketball and three years of baseball at Jason Lee intermediate school. (Baseball had been his love at the time, and he spent the spring and summer months engaged in the diamond sport.)
Played Junior League baseball on the Bank of California team in 1927 and 1928.
Played with the Steilacoom team in the summer of 1928 at second base.
In the fall of 1928 he drifted into the Northwest Athletic Club to box, where he quickly caught the eye of Dave Miller, who became Steele's manager and father-figure.
As a Tacoma grammar school student at Jason Lee, Steele also showed an aptitude for basketball, soccer and baseball. Meanwhile, he added more and more wins to his promising boxing record. By the spring of 1929, he had shown such promise as a boxer that manager Miller told Steele he should not expose himself to potential injury in these other sports, and stick to boxing.
Steele graduated from Jason Lee in the spring of 1929. He entered Bellarmine High School (a Tacoma Catholic school) that fall, when he joined the school's "midget" football team. He made the midget football weight class of 132 pounds. But he wore the name "Johnson" on the back of his jersey, so that Dave Miller would not notice him playing. He had to abandon football when Miller found out. So he turned to the less potentially injurious sports of golf, swimming and horseback riding. With golf, he played in the low 80s, high 70s. He became an expert swimmer and diver. In fact, he and a companion rescued a pair of exhausted bathers from drowning in the Pacific Ocean while vacationing at Long Beach, Washington. (This location is infamous for its fatal eddies, where many have drowned--even to this day.) He also became proficient at table tennis (ping-pong) and billiards.
(Most of the above taken from the "How Freddie Steele Became a Boxing Champion" newspaper article of Sept. 12, 1936, published in local Washington state newspapers.)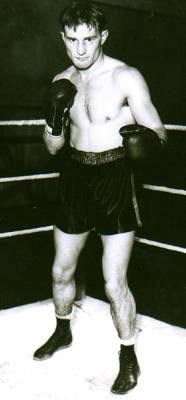 Steele's boxing career declined with the death in 1938, following mastoid surgery, of his long-time manager, Dave Miller, according to later newspaper accounts. Miller's brother Eddie then took over the management of Steele. From family accounts, Eddie Miller robbed Steele of ring earnings.
Steele was co-managed by Joe Waterman in 1934, when Waterman bought a half-interest in Dave Miller's stable, for $2,000. Waterman likely sold this interest in January 1935, when he returned to Portland as a promoter. The intent was to take Steele out of the Northwest and into California, something that Dave Miller could not do for an extended period, due to his business interests in the Puget Sound area. It is likely that Waterman probably got a percentage of nearly all of Steele's appearances in California. Waterman was definitely involved with all of Steele's California appearances in 1932 and his Olympic appearances later on, while he was a matchmaker.
Steele claimed, in an August 5, 1945 article (reprinted in IBRO Journal Issue No. 82, p. 115) that he had 165 total career bouts, losing only five.
When his boxing career ended, he ran a cigar store in Tacoma for a spell, earning some $600 a month, plus a $200 monthly annuity from his ring earnings.
In 1941, he decided to move his family to the San Fernando Valley of California, where the photogenic Freddie Steele began a film career, albeit brief, at the urging of Mushy Callahan, who was then an adviser to the Warner Brothers Studio on boxing matters. Steele first started as a double for Errol Flynn in Gentleman Jim. He was also in Pin-Up Girl, and Duffy's Tavern. He had a role in the movie The Story of G.I. Joe in 1944. And look for him in a fight scene in The Man from Down Under with Charles Laughton. The fight lasts about eight minutes and is a "thriller," with Steele winding up on the canvas. (See his film credits here).
Freddie Steele spent over ten years in California doing this and that before returning to his home of Washington state. Some time after returning to his home state, Steele and his wife Helen launched "Freddie Steele's Restaurant" in Westport, Washington--a popular fishing and tourist town. The Steeles ran this restaurant business for more than 20 years before illness forced Freddie's retirement. Steele died at a nursing home in Aberdeen, Washington on August 22, 1984; he had suffered a stroke in 1980. He is interred in the Fern Hill Cemetery, Aberdeen, WA.
Freddie Steele is an honored member of the International Boxing Hall of Fame. He is one of the three original inductees into the Tacoma-Pierce County Sports Hall of Fame when it opened in 1957.
Family
Mother: Virgie Cloud Burgett: per the April 5, 1938 Everett Daily Herald
Father: Charles E. Steele (Step-father, whom Freddie considered his dad. He may have adopted Freddie.)
Grandmother: Anna Leslie of Bellingham, Washington, USA, per the April 5, 1938 Everett Daily Herald
Grandfather: John Steele (prominent citizen of Ketchikan, Alaska--per the May 18, 1934 Tacoma News-Tribune)
Married ? (name unknown) July 11, 1937. They had two children, David and Sharon, and divorced in 1949
Second wife: Helen Cotton Steele
---
Miscellaneous Boxing Info
A January 15, 1927 clipping from the Bellingham Herald (Bellingham, WA, USA), announcing a forthcoming Jan. 18 bout between future World Champion Freddie Steele and a Abe Attle of Everson, WA. The results of this card are unknown. It is unknown whether this card ever actually materialized.
According to the Tacoma News-Tribune newspaper, Miller sponsored a series of weekly Tuesday night amateur cards at the Northwest Athletic Club (909? Commerce St.) in 1929. On at least two occasions Steele was the featured boxer:
Steele W-3 Soldier Joe Lombardi of Fort Lewis, WA, June 4
Steele D-3 Pete Magalenes, June 11 (Also on this card were Ted Gesch W-3 Steamboat Jackson, Johnny Leonard D-3 Dummy McNish, Willie Thomas D-3 Joe Heeney, Willie O'Brien D-3 Tommy Jeffers, Johnny Babnick K-3 Frankie Bell, and Chester Pierce K-1 Red Worley.)
November 17, 1930 Steele EXH-3 Jimmy Beck @ Northwest A.C., Tacoma, WA, USA.
(Source for above amateur bouts: Tacoma News-Tribune and Tacoma Times.)
The Tacoma Daily Ledger of June 11, 1929 reports Steele's record as 23 total bouts, with 11 KOs, 10 decisions, and two draws.
The Tacoma News-Tribune of Sept. 30 and Oct. 1, 1929, apparently not knowing of his earlier Bellingham bouts, state that, from a Jan. 1, 1928 Tacoma debut, his record as of Oct. 1, 1929 was a total of 27 bouts, with 14 knockouts, nine wins, and four draws. However, there was no Jan. 1, 1928 Tacoma card whatsoever. Nor was Steele on the January 2, 1928 Tacoma card.
External Links