Edison Miranda
Jump to navigation
Jump to search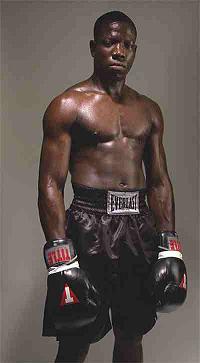 Name: Edison Miranda
Alias: Pantera
Hometown: Carolina, Puerto Rico
Birthplace: Buenaventura, Colombia
Stance: Orthodox
Height: 178cm
Reach: 197cm
Pro Boxer: Record

Trainers: Jose Bonilla, Joe Goossen (2009 - )
Managers: Rafael Guerrero (former), Greg Wantman and Steve Benbasat
Promotors: Seminole Warriors Boxing, Goossen Tutor
Biography
Edison Miranda has been a fighter his entire life. At just one-month-old, his mother gave him to a family friend to be raised. Edison was both physically and mentally abused by this person. At nine-years-old, he decided to search for his mother all by himself. He traveled all across Colombia and finally found her; however, she rejected him again. He was now all alone on the tough streets of Colombia at the young age of nine. He spent the rest of his childhood working hard in the plantain and yucca fields of Tumaco and sweeping up for street vendors in the neighboring town of Buenaventura. He ate whatever he could find on the streets in order to survive. By the time Edison was 12, he was already working a grown-man's job in construction. Just two years later, he worked as a cattle butcher in Barranquilla, where he would soon begin pursuing his dream of becoming a champion boxer.
With only five months of training and barely 16-years-old, Edison fought his first amateur boxing match on April 17, 1997. The strength and passion that had seen him through the past 15 years became his greatest weapons in the ring, helping him to a first-round knockout against his first-ever opponent. After only four more amateur fights, Edison found himself in the ring with the best fighters in the country, only to succeed with first-round knockouts again and again. He quickly rose to be the National Champion from 1998 to 1999 and was the Champion of the National Games in 2000.
One hundred and fifty-two fights later, Edison became a professional boxer, but his journey was only halfway over. March 2002 saw the promising young boxer's arrival in the Dominican Republic. Having been promised a shot at going to the United States to fight the top middleweight fighters in the world, Edison continued with what he's best at--fighting--both in and out of the ring. Struggling to make ends meet, left homeless and hungry by an unfair contract, Edison left the Dominican Republic and returned to Baranquilla, Colombia on December 24, 2004. With the support of friends, he fulfilled his dream of making it as a boxer in the United States, when he signed with Seminole Warriors Boxing, and then had his first American fight in Hollywood, Florida, on May 20, 2005. "I am God's warrior," Edison said. "I've always put my trust in Him, and he's always protected me. God is the reason I'm here today... and he's the reason I fight. Because I know it's His plan that I be a champion."
Edison's keys to success are discipline, faith and hard work. His training regimen includes only jogging, the stationary bike, jump rope, punching the bag and sparring. He doesn't lift weights, doesn't drink alcohol, and always goes to bed early. When asked about his greatest goal as a boxer he replies, "I want to be the kind of champion that helps others... to help children that were like me, homeless, with nowhere else to go. True champions are role models and that's what I strive to be". [1]
Professional Career
Won 16 of his first 23 professional bouts by 1st Round KO.
2001-03-16 - Won his first professional fight with a 1st Round KO victory over Jose Chiquillo.
2005-06-16 - Defeated Jose Varela by Unanimous Decision to claim the vacant WBO Latino middleweight title, vacant NABA middleweight title and the vacant IBF Latino Middleweight Title.
2006-09-23 - Received his first loss by Unanimous Decision to the undefeated champion Arthur Abraham for the IBF Middleweight Title.
2007-03-03 - Won a Unanimous Decision over then undefeated contender Allan Green.
2007-05-19 - Lost by 7th Round TKO to ranked Kelly Pavlik (29-0) in a WBC Middleweight Title Eliminator.
Titles Held
Notes
External Links