Eric Lucas
Jump to navigation
Jump to search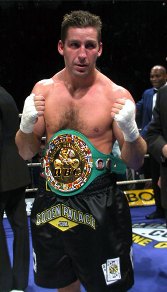 Name: Eric Lucas
Hometown: Magog, Quebec, Canada
Birthplace: Montreal, Quebec, Canada
Stance: Orthodox
Height: 183cm
Reach: 188cm
Pro Boxer: Record

Trainer: Stephan Larouche
Eric Lucas, a former WBC super middleweight world champion, announced Friday he's retiring after a career that surpassed his expectations.
His decision comes just a few weeks after he was beaten in the 10th round of his WBA challenge to super middleweight champ Mikkel Kessler in Copenhagen.
I think I had a good career and I'm happy today with what I've accomplished, Lucas told a news conference. It was a lot better than I could have imagined.
Eric finished his career with 38-7-3, 14 knockouts. (Kessler now has 37 straight victories).
Lucas won the WBC title from Briton Glenn Catley in 2001. He defended it three times before losing a controversial split decision to Markus Beyer in Germany in April 2003. In August 2003, Beyer's face was carved by Danny Green, and Beyer went on a long recuperation, while Lucas and Green were matched up for the WBC interim title in Christmas week 2003. Green won in six.
Lucas said he'll continue in the sport as a promoter and head of Interbox, and will look after his sports restaurants.
"I was a pretty ordinary amateur boxer compared to others and I only won one Canadian championship," said Lucas. "But I'm a guy who doesn't give up. Nobody, not even me, could have imagined everything that I accomplished. I'm very, very proud.
Health has been a concern for the Quebecer in recent years as he has battled hand, chest and shoulder injuries as well as a thyroid problem that requires regular medication.
- Thursday February 3, 2006.