Ezzard Charles vs. Jersey Joe Walcott (3rd meeting)
Jump to navigation
Jump to search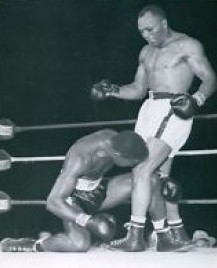 NBA Heavyweight Title (9th defense by Charles)
NYSAC Heavyweight Title (5th defense by Charles)
Notes
This was the first World Heavyweight Championship fight to be held in Pittsburgh, Pennsylvania.
A crowd of 28,272 produced a gross gate of $245,000.
Walcott was a 9-1 underdog.
This was Walcott's fifth attempt to win the World Heavyweight Championship.
Walcott put Charles down for the count with a left hook to the jaw in round seven.
The Associated Press had Walcott ahead 4-2 at the time of the knockout.
At the age of 37, Walcott became the oldest boxer ever to win the World Heavyweight Championship. The record was broken 43 years later when 45-year-old George Foreman scored a 10th-round knockout of Michael Moorer to win the title.
The fight was named 1951 Fight of the Year by The Ring Magazine.
See Also
Newspaper Article