Ferdie Pacheco
Jump to navigation
Jump to search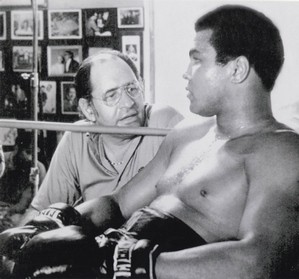 Fernando 'Ferdie' Pacheco (also known as "The Fight Doctor") was born December 8, 1927, in Tampa, Florida.
After Pacheco got his medical degree from the University of Miami and completed his internship as a physician at Mount Sinai Hospital in 1959, he opened charity clinics in the Miami neighborhoods of Overtown and Little Havana.
In the early 1960s, he became the doctor for the boxers who trained at Chris Dundee's 5th Street Gym, which included Muhammad Ali. Pacheco would also serve as a corner man for some of the boxers, including Ali.
Pacheco urged Ali to retire for health reasons after he defeated Earnie Shavers in a tough fight in 1977. When Ali chose to continue fighting, Pacheco left his camp.
In the 1970s, Pacheco began working as a TV boxing analyst. He worked for such networks as NBC and Showtime, and won two Emmy Awards.
Pacheco was also an award-winning artist and author of numerous books, plays, screenplays and short stories.
He died at the age of 89 on November 16, 2017, in Miami, Florida.