Florentino Fernandez
Jump to navigation
Jump to search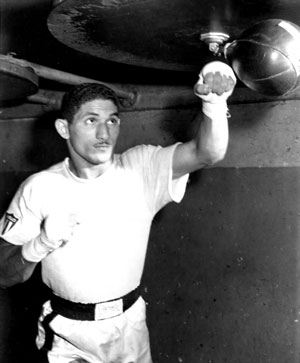 Name: Florentino Fernandez
Alias: The Ox
Hometown: Havana, Cuba
Birthplace: Santiago de Cuba, Cuba
Died: 2013-01-28 (Age:76)
Stance: Orthodox
Height: 178cm
Reach: 180cm
Pro Boxer: Record
Amateur Boxer: Record

Photo #2
Career Review
Cuban-born Florentino "3 Toneles" Fernandez was one of the island's biggest punchers and holds the Cuban record for most consecutive knockouts (16 straight). Fernandez was known to the Cuban community as " El Barbaro del Knock Out."
Fernandez was a big left hook artist who racked up a series of impressive victories which led to his title challenge against Gene Fullmer. The 25 year old Fernandez lost a split decision to Fullmer. Referee Ken Shulsen scored the fight 145-142 Fullmer, judge Del Markham favored Fernandez 145-143, and judge Norman Jorgensen scored it 148-140.
In the amateurs, Fernandez won on points over future welterweight champion Luis Rodriguez. As a pro he was not pampered and fought tough opponents from early in his career.
When Cuba outlawed professional boxing, Fernandez lived in exile from the communist government of Cuba, in Miami Beach, Florida, where he became a fan favorite on television, and on the fight cards promoted by Chris Dundee. In most cases Fernandez either knocked out his opponents, or was in turn KO'd himself.
Fernandez was bombed out in mere seconds by Rubin Carter, but came back a few years later to knockout undefeated, future world light heavyweight champion, Jose Torres. He also had a 2-2 record against Argentine slugger Rocky Rivero.
After a stunning knockout defeat to club-fighter Willie Tiger, Fernandez announced his retirement. He blamed his numerous knockout defeats on personal problems associated with the political situation in his native country of Cuba.
He was working as a dishwasher and busboy when he decided to launch a comeback as a light heavyweight. Fernandez shocked the boxing world by scoring upset knockouts over Florida Middleweight Champion Jimmy Williams and highly regarded Jerry Evans.
However, just when it seemed that Fernandez was on the verge of a title shot against light heavyweight king Bob Foster, Fernandez was stopped in the 10th round of a toe-to-toe slugfest with upstart Vernon McIntosh.
In the early 1980s, Fernandez briefly coached amateur boxers at the Elizabeth Virrick Gym in Coconut Grove, Florida. He worked in the restaurant business and owned his own condo, living modestly in Miami where he was revered by Miami Cubans.
He was inducted into the Florida Boxing Hall of Fame in 2009.
Fernandez died of a heart attack on Monday morning, January 28, 2013 in Miami, Florida. According to his son, Florentino Fernandez Jr., "He(Florentino Fernandez) had just finished having a cup of coffee at his sister's house and complained of chest pains; soon after, he passed out. Paramedics arrived very fast but they couldn't revive him."
Fernandez was in the early stages of Alzheimer's disease but had no previous heart ailments, according to the younger Fernandez.
References
Enciclopedia Del Boxeo Cubano by Willy Del Pino 1988, page 136.
Ring Magazine, October 1961, pages 5-6-7: FULLMER ASKS FOR DOWNES-PENDER WINNER, by Al Buck.
Miami Herald Obituary: [1]